The Unsung Kenyan Hollywood Actor-Edi Gathegi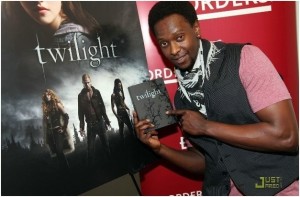 We all know of Lupita but in there's another quiet cat that catches mice too. We've all seen him in movies and TV shows but we probably didn't even know he's Kenyan. Well, he is. Gathegi is a Kenyan actor who's based in the US. He made his acting debut in the movie Crank back in 2006 and since then he has starred or gest starred in highly rated TV shows such as House, Nikita Season 1, CSI Miami, Lincoln Heights, Red Widow, Beauty and The Beast, The Family Tools, Veronica Mars and Hawken. He has also starred in popular movies such as Gone Baby Gone, The Fifth Patient, Death Sentence, My Bloody Valentine and most importantly, the Twilight movie franchise.
Born in Eastlands, Nairobi, Kenya, Gathegispent a number of his childhood years in Kenya before his family moved to Albany, California in the USA. He then joined theUniversity of California, SantaBarbara to further his studies. At the university, he was more interested in playing basketball and was good at it, until he injured his knee. This plunged him into depression, so he took up an acting class as an "easy course". And that's how he discovered his love for acting.

Afterwards, Gathegistudied at New York University's Graduate Acting Program at the Tisch School of the Arts, graduating in 2005. His career began in theatre, and his stage credits include Two Trains Running at the Old Globe Theatre, As You Like It, Twelfth Night, Othello, A Midsummer Night's Dream, and Cyrano de Bergerac, among others.
The 34 year old Gathegi has one award nomination to his name. In 2011 he was nominated for Best Featured Actor in a Play for the role of Franco Wicks in "Superior Donuts". His first professional role was that of a Haitian Cab driver in the 2006 film Crank. Though he had originally auditioned for the role of Kaylo, the producers gave the role to a more proven Efren Ramirez and instead offered him an appearance as the Haitian taxi driver He was dubious at first about performing a Haitian accent, but was coached by a Haitian friend.
In 2007, after guest-starring on Lincoln Heights and Veronica Mars, Gathegi went on to star as Bodie inDeath Sentence, Darudi in The Fifth Patient and Cheese in Gone Baby Gone. He later had a recurring role as Mormon intern Dr. Jeffrey Cole on the television medical drama House. His character was often mocked for his religious beliefs by the main character Dr. House, who himself is an Atheist .
Gathegi also guest-starred on CSI: Miami, CSI: Crime Scene Investigation and Life on Mars in 2008 before being cast as Laurent in Twilight. When he first auditioned for the 2008 film, adapted from the same-titled first book in Stephenie Meyer's Twilight series, he had not heard of the series and was not aware that his character was a vampire.The talented actor has upcoming projects. He will play A-Guy in the upcoming film Son of Magnet and Dex in Shiva and May.-niaje.com