Kenyan wins coveted global award in Los Angeles, US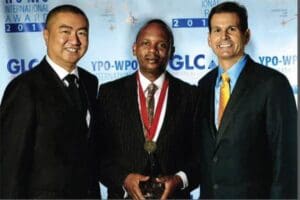 A Kenyan entrepreneur has bagged the 2013 Young Presidents Organisation (YPO) Award.
Mr Robert Muchoki – who is the chairman of the global organisation's Nairobi Chapter – beat hundreds of other contenders and was feted as the overall winner of the Award dubbed "Best of the Best" at a ceremony held in the city of Los Angeles, California.
YPO is a global network which connects over 21,000 successful young chief executives of leading companies. By the end of February this year, the companies in the network had generated over US$6 trillion in annual revenues and employed over 15 million people in 125 countries.
During the Global Leadership award ceremony held recently, Mr Muchoki received a standing ovation from his peers drawn from around the globe for his contribution to the virtues espoused by the organization.
"Your efforts showcase the energy of the YPO network to bring together members from around the globe to connect and share life-changing ideas and experiences. You set the bar with your excellence and we want to personally thank you," said Mr Devan Capur, the Chairman of International Education Committee.
"Champions like you make the YPO-WPO experience relevant for members, and we appreciate your dedication," he added.
Muchoki is a co-founder of MIGAA, one of East Africa's premier planned neighbourhood communities. The concept combines community development, natural beauty, landscape integration and organic configurations.
In 2013, he developed an award winning education program – Outliers – which was adjudged as an exceptional contribution to the organization's ambition in sharing life-changing ideas and experiences.
This effort, as well as others within the Chapter, earned Robert the 2012 – 2013 International Best of the Best Award for Overall Education Program, an award that recognizes contributions of members to create better leaders by providing them access to extraordinary education experiences.
To qualify for YPO membership, one must be under 45 and the chief operator (CEO, managing director, president, chairman or equivalent) of a company that fulfills minimum size and revenue requirements.
Once members reach the age of 50, they "graduate" from YPO into WPO (World Presidents' Organization), a network that builds upon the YPO experience by providing lifelong leadership opportunities.
Mr Muchoki has initiated various programmes seeking to improve the lives of less fortunate Kenyans.
They include the Home Afrika Foundation which undertakes various community projects in the areas of health, education, orphans, water and sanitation, mentorship, sports and social welfare.
He is a registered Quantity Surveyor, a member of the Board of Registration of Architects and Quantity Surveyors and the Architectural Association of Kenya. Muchoki holds a degree in Building Economics.
An elated Muchoki thanked the organization for the recognition. He was accompanied by his wife, Anne Muchoki, who also expressed her delight. "We are so excited about this honour. It is very encouraging to see that my husband's efforts are not in vain," she told the Nation by phone.
In recent times, a number of young Kenyan entrepreneurs have been honoured for various achievements in the business world. In November last year, A Kenyan was named among top investors in the state of Georgia, USA.
On Tuesday, The Business Daily reported that three Kenyans had been admitted to the prestigious World Economic Forum's Young Global Leaders Community (YGLC).
The under forty leaders were chosen from varied business backgrounds.-nation.co.ke