Yes, I am happier with my younger husband
In Thomas Hardy's novel, The Mayor of Casterbridge, a story is narrated of a man who sold his wife while under the influence of alcohol.
The young man, Michael Henchard, his wife Susan, and their baby daughter, Elizabeth-Jane, arrive at Weydon-Priors tired and hungry after a long journey.
They meet a sailor and Henchard asks whether they can find work or shelter in the town. The distrustful labourer tells them there is neither.
Then the family comes upon a fair and stop for food. They enter a tent, where a woman sells gruel. After watching the woman spike several bowls with rum, Henchard hands over his bowl to be spiked as well. He gets drunk and begins to lament about his status as a married man. If only he were "a free man", he tells the group gathered in the tent, he would be worth a lot of money.
When the sound of an auctioneer selling horses interrupts, Henchard declares that he is willing to sell his wife. Susan begs him to stop the joke, but Henchard could hear none of it.
He starts to bark out prices like an auctioneer, upping the cost of his wife and child when no one takes his offer.
When the price hits five guineas, a sailor agrees to the trade. Distraught, but glad to leave her husband, Susan and her daughter go off with the sailor. When Henchard wakes up from his drunken stupor the following day, the buyer has sailed away with his family.
Recently, there was a story about a man from Luanda village in Kakamega county who was said to have sold his 53-year-old wife over a Sh900 debt to a 27-year-old man.
But while Francis Kevogo's wife says her husband sold her to the younger man to settle a debt, Kevogo cites a different reason.
The 56-year-old says his marriage of 24 years had turned into hell on earth and that he could not live with his wife any more.
"When I married her in February 1990, I was the happiest man in this village because I got everything I wanted in a woman from her and never at any given time did I regret marrying her," he said.
Newly-married couples, he says, would go to them for advice on family matters because they were regarded as role models.
"We loved each other and did everything together — my wife never did anything before seeking my consent and she would sing praises of how responsible and loving I was," he says.
Kevogo says their model marriage began to disintegrate in 1996 after the birth of their third child.
Kevogo, who swears that he would immediately head home after the day's work was completed, says his wife began to be abusive.
"There was no peace and she would even quarrel and call me all sorts of names in the presence of our children."
That, he says, is when he began to seek solace in alcohol.
"I never used to drink alcohol. I restrained from doing it because I could not afford it and also because it was not a priority — I wanted to give my family the best, but obviously, my wife was not appreciative of my efforts."
But Jonnes, Kevogo's wife and mother of his five children, scoffs at all that, saying that her estranged husband was a secret drunk.
"He went to great lengths to hide his drinking habit from me, but you cannot hide the real you forever, can you?"
Jonnes, whose younger children now live with the older ones since her separation with her husband, says that she is happy with her young husband, Patrick Handavya. Her relationship with her "in-laws" is far from rosy, though, and of course, their neighbours are scandalised by the 26-year age gap between them.
The villagers were so outraged that, led by village elder Flora Musembi, they tried to force Jonnes out of her new home.
"The union will not last unless she agrees to become a co-wife — he is still a young man and will, therefore, get attracted to girls his age," she says.
Jonnes knows that she is not welcome in her new home, but she has no intention of leaving.
"Initially, Handavya's mother welcomed me with open arms, but after a week or so, she changed and made it clear that she was against our relationship since I am older than her son," she says.
Handavya is aware that his mother is not pleased with his choice of wife, but he is not bothered.
"When two people love each other, age should not matter. I know many people are not happy with our relationship, but the choice is mine, no one forced me to marry her."
Handavya adds that compared to his former younger girlfriends, Jonnes stands out.
"She is loving and caring — when I return from work, I find food ready. Young girls wait to be told what to cook for their husbands and demand money all the time. They don't want to work," he says.
He adds that he and his wife plan to have children in the future.
Their life together has developed a simple pattern. When they wake up in the morning, they have breakfast together, then head out — Handavya to a brick-making site, Jonnes to the local shopping centre to look for work.
Kevogo, Jonnes first husband, says he has washed his hands off his wife.
"In June 2002, she left me, taunting me that she had found a richer husband, only to return a year later, begging for forgiveness. Being the mother of my children, I forgave her and accepted her back. I would be a fool to take her back again, wouldn't I?"
What bothers him, though, is the fact that Handavya is his son's age mate.
"The man she lives with is like my son since the two went through initiation on the same day. I will never accept her back."
Kevogo insists that contrary media reports, he does not owe the young man a cent, and neither did he hand his wife to another man to settle the alleged debt. This, he claims, is purely a case of infidelity.
He says he had contracted Handavya and another young man to make bricks since he had another job that was more demanding.
While he was away during the day, he asked his wife to supervise the young men. That, he said, was a grave mistake.
"After three weeks, Handavya complained that the other man was not a good worker and that he could do a better job by himself," says Kevogo.
Convinced, Kevogo sacked the other young man and the two agreed to a daily payment of Sh200, which Kevogo insists he honoured.
He says it never crossed his mind that Handavya's motive was to get rid of the other man so that he and his wife could keep their affair secret.
"A week later, neighbours told me that my wife kept Handavya company all day," he said.
Incensed, he asked Handavya to leave.
Jonnes of course denies conducting an affair behind her husband's back and insists that he owed Handavya Sh900.
"He came to our home several times to claim his money, but Kevogo chased him away. The last time he came, Kevogo told him that he could take me since it was me he really wanted."
When he left empty-handed, Jonnes says her husband chased her away, brandishing a panga and telling her to go live with Handavya.
"I simply did what I was asked to and, anyway, I feared for my life," she says, adding, "I'm happy with this man and hope things will remain this way."–nation.co.ke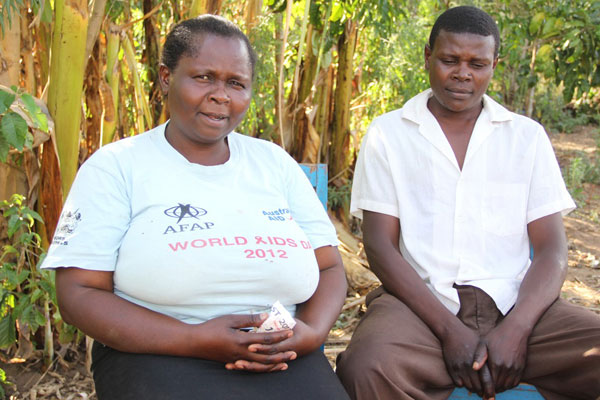 -nation.co.ke