More than 1m 'lost' files found after audit at Lands Ministry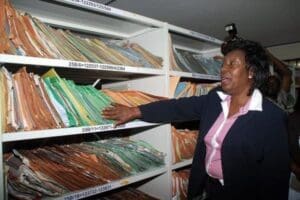 More than one million files that had been missing or misplaced at the lands registry have been recovered in the two week reorganisation and audit at Ardhi House in Nairobi, Cabinet Secretary Charity Ngilu said Sunday.
The registries — all at Ardhi House — were closed from May 5 to May 16 for the re-organisation and clean-up of records.
During that period, all searches, stamp duty and land rent payments and application for valuation and processing had been stopped, affecting transactions like payment for allotments, applications for subdivision of land, settlement programmes and land adjudication.
Ms Ngilu, the Lands, Housing and Urban Development Cabinet Secretary, said that about 1.3 million files can now be accounted for after the audit. They are in the Central, Nairobi and Records registries where records for Nairobi and other counties are kept.
With the clean-up of the records, land transactions at the ministry are now expected to take three days, down from 20 before the audit.
Mrs Ngilu said that following success in Nairobi, scrutiny of land records will now move to the counties.
The two-week audit — which was conducted by students from Kenyatta University and Jomo Kenyatta University of Agriculture and Technology (JKUAT) — cost the government Sh67 million.
The closure of the three registries sparked a dispute between Ms Ngilu and the National Lands Commission, which went to court seeking to compel Ms Ngilu to rescind her decision.
The commission withdrew its case last week after the court ordered that the dispute be resolved through arbitration.
"We have been able to retrieve, record and re-shelve 1,322,800 files and records in the last 10 days. We are warning those who are hiding files that we will soon catch up with them," Ms Ngilu said.
Nairobi registry had 134,000 files, while Central registry had 188,000 but the records registry had 1,067,480 files that were recovered.
However, she said there were over 500, 000 files that are still being traced as the search at the registries confirmed that only 2.5 million files were available and not the three million that the Lands ministry is believed to have in its registries.
Among the changes that have been effected at Ardhi House, she said, include the installation of CCTV cameras to beef up security and identify brokers and unscrupulous agents who have given the ministry a bad name.
-nation.co.ke