CORD REJECTS MPS INITIATIVE, PLANS MORE RALLIES AHEAD OF SABA SABA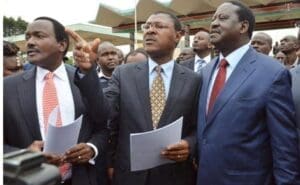 CORD has identified what it calls the seven grand failures of the Jubilee government to be discussed during the Opposition's Saba Saba rally at Uhuru Park in Nairobi on Monday.
They are promotion of negative ethnicity, skewed public appointments, grand corruption, high cost of living, insecurity, devolution and provincial administration and jubilee's refusal to disband the Independent Electoral and Boundaries Commission (IEBC). Monday is July 7 and saba is Swahili for the number seven.
The Opposition coalition's co-principals Raila Odinga, Kalonzo Musyoka and Moses Wetangula said President Uhuru Kenyatta forced them to hold the controversial rally after he rejected their request for national dialogue on the seven issues.
Thursday, an attempt by the Inter-Party Parliamentary Caucus led by Rev Mutava Musyimi to convince the trio to call off the rally in favour of using Parliament failed. Mutava's team met the three at CORD's secretariat in Capital Hill Centre at Upper Hill, Nairobi.
"We will be gathering directly as a result of the Government's failure to convene a national dialogue process to enable Kenyans to deliberate on issues that are of critical concern to them as citizens," the trio said at Uhuru Park in a statement styled "final media briefing ahead of our Saba Saba rally" that is "also a confirmation that the rally is on."
However, fears that Jubilee and CORD supporters would clash at the rally's venue on Monday have been squashed after the ruling coalition distanced itself from claims it had planned parallel rally at the venue.
National Assembly Leader Aden Duale said Jubilee has no plans to hold a public event on Monday, after a section of its members claimed to have booked the Uhuru Park venue where Cord will hold its rally. Former Embakasi MP Ferdinand Waititu and TNA activist Moses Kuria insisted that they had booked the venue at City Hall and paid Sh50,000 in the name of Mavuno Youth Congress, an outfit they associated with the ruling Jubilee coalition.
"We have come to inspect the venue of our meeting. We are the sponsors of the Mavuno Youth Congress. We applied and paid for the venue and now we are set to hold our peaceful rally on Monday," Waititu said showing documents of which some, strangely enough, had the logo of the defunct City Council of Nairobi.
But Duale distanced Jubilee from the claims. "It has been reported in sections of the media that Jubilee has reserved Uhuru Park for a function next Monday. For avoidance of misunderstanding, I confirm that neither the Jubilee alliance, nor any of its affiliates has made reservation of the park for that day. I repeat the Jubilee alliance has not reserved Uhuru Park for any political function on or around July 7."
Moments after the Waititu group left, Raila, Kalonzo and Wetangula led their supporters to affirm that they would hold their rally at the venue. In the build up to the rally, CORD will hold other meetings, starting today at the Gusii stadium followed by Busia and Ugunja and then Kisumu on Saturday and Machakos on Sunday.
"This is our final media briefing ahead of our Saba Saba rally scheduled for Uhuru Park on Monday, July 7. It is also a confirmation that the rally is on, and an open invitation to all Kenyans," Wetangula who read a statement on behalf of the CORD principals.
The Bungoma senator said a consistent theme in the Constitution is the importance of national unity and ethnic inclusion, adding that the Njemps and Tugen, Orma and Pokomo, Gabra and Borana, Degodia and Garre, Turkana and Pokot, and the coastal and upcountry people are in the grip of ferocious communal conflict with their relations poisoned by suspicion and mistrust.
CORD wants the Public Service Commission to publish a list of all appointments made in the public service since March 4, last year, with full details listing names, regions and percentages. The Opposition wants names of all senior public officers categorised by their ethnicity, region and gender, from the position of director and upwards, who have been sacked or transferred since the Jubilee government was sworn in made public.
"Recruitment in State organs has manifestly failed to reflect the diversity of the Kenyan people. As a result, today, entire communities feel excluded from participating in the management of national affairs on the basis of ethnicity, gender and other forms of identity," he said. On corruption, the Opposition said impunity has become the norm as graft now costs Kenya about 300,000 jobs every year, and has contributed to Kenya sliding steadily down the annual list of failed states — compiled by Fund for Peace — to 17th from the bottom globally in 2013.
"An inability to stem it on the part of the population and its leadership has contributed to a sharp spike in the destruction of the country's national heritage that it holds in trust for the rest of humanity ,through the poaching of elephants and rhinos in particular."
standardmedia.co.ke