Raila Odinga declares Saba Saba 'public holiday'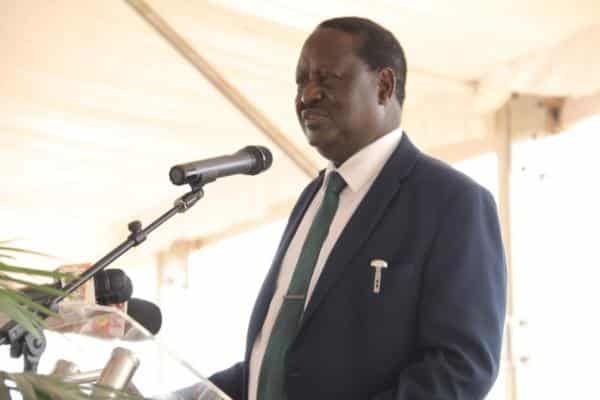 Cord leader Raila Odinga Friday told Kenyans to stay away from work on July 7, the day he has declared the beginning of pressure to force President Kenyatta to accede to demands for national dialogue.
He declared the day "a public holiday" saying his rally would mark the beginning of a big change in Kenya.
Addressing the first of a series of rallies that Opposition  leaders say are meant to force the government to agree to talks on insecurity, the Independent Electoral and Boundaries Commission (IEBC), the cost of living  among others, in Migori, Mr Odinga asked  all working Kenyans to stay indoors on that day.
"It will be a day like no other and I ask all of you to stay away from your work places even as you give us moral support. We are moving forward to redeem our country," said Mr Odinga.
"Time has come for the  people of Kenya to use constitutional power to cause a major change in this country.
"Clouds are quickly gathering and the faster President Uhuru Kenyatta moves to the negotiating table, the better for his administration. And he should do so quickly before we shave him without water," he told a cheering crowd at the Migori Stadium.
He continued: "The donkey is  tired with the load and on Saba Saba Day, the animal will have to drop the load."
President Kenyatta cancelled the Kenya re-birth conference, which had been planned for July 2, saying it had been politicised.  The conference had been in the planning stage for five months, President Kenyatta said.
Mr Odinga said other rallies would be held in  Mombasa, Kisii, Kakamega, Eldoret, Nakuru, Narok, Machakos, Garissa, Marsabit, Kisumu, with the final one planned for Nairobi on July 7.
In Mombasa, preparations for tomorrow's rally at Tononoka Grounds were going on.
Amid chants  of "Uhuru Must Go! Uhuru Must Go!" from the crowd, the Cord leader said while he was away, many bad things happened, including tribal-based appointments and Anglo Leasing payment.
"Uhuru has  the last chance to salvage his administration though national dialogue," said Mr Odinga. He vowed not to compromise on insecurity, corruption, devolution, disbandment of the IEBC, and the cost of living  which he said had affected Kenya's  socio-economic growth.
"When you see your neighbour being shaved, get ready or else you may be shaved without water," Mr Odinga said, but would not elaborate on who the neighbour is.
"The dialogue I am talking about is a must for them.  I hope they will come to us before the D-Day."
His co-principal, Mr Moses Wetangula, said they would not allow the country to disintegrate in the hands of two communities.
"We are going to liberate you on Saba Saba Day without failure. Jubilee leaders should rush to talk to us or else they may find nobody to talk to later."
Senators James Orengo, Boni Khalwale, Johnstone Muthama, Otieno Kajwang and Wilfred Machage said the situation in the country required  immediate redemption.
"President Kenyatta and his Deputy William Ruto were political toddlers when we fought for the expanded  democratic space and we are not going to allow them to strangle the benefits of our new Constitution," said Mr Orengo.
Mr Muthama said the government was "full of thieves who cannot be entrusted with public resources".
"Now they have brought many Chinese nationals who are stealing our ivory at alarming levels," he charged.
Dr Khalwale said they were more physically and psychologically prepared than ever before to fight for the rights of Kenyans.
Several MPs present, including Junet Mohammed (Suna East) and Tom Kajwang (Ruaraka) said they were prepared for Saba Saba.
Suba's John Mbadi said the Jubilee administration had been rejected by God and was "faced with many misfortunes".  Former Vice-President Kalonzo Musyoka did not attend the rally as he was out of the country.
Mombasa County Commissioner Nelson Marwa assured  those planning to attend the Tononoka rally that security had been beefed up.
"We have an elaborate plan for security for the rally. People should not fear because we are at the top of things," he said.
Reported by Elisha Otieno,  Wachira Mwangi and Daniel Nyassy.
Raila Odinga declares Saba Saba 'public holiday'