Ruto gives security chiefs 48hrs to arrest Lamu attackers or quit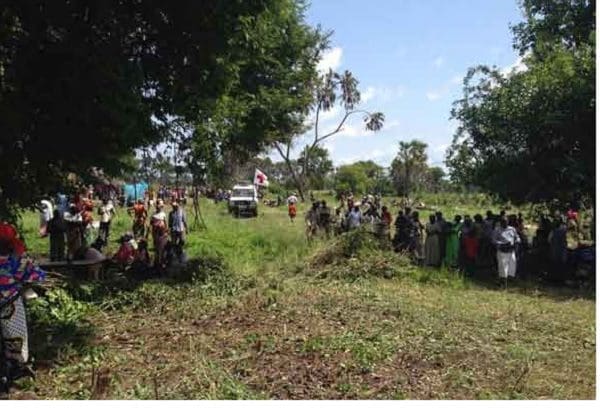 Deputy President William Ruto has given security agencies 48 hours to flush out attackers who killed eleven people on Saturday night at Lamu.
"The security team must get these criminals, starting from Inspector General David Kimaiyo to the police constable down here…these people must be arrested," said Ruto.
Addressing a public gathering at Hindi Trading centre in Lamu, Mr Ruto said that deputy inspector general in charge of administration police Samuel Arachi will oversee the operation until all attackers are flushed out of the forest either dead or alive.
"It is impossible in the independent Kenya to have criminals and terrorists coming and killing innocent people. We have given instructions to security officers to ensure the criminals are brought to book alive or dead, "Mr Ruto said.
He noted that he has left CID, NIS and other police chiefs in a meeting to strategize on how they would arrest the criminals hiding in the forest within the next 48 hours.
He noted that the government will take an elaborate action to ensure the criminals who perpetrated violence in Mpeketoni, Poromoko , Witu and Hindi attacks are brought to book.
Accused the Cord coalition
Mr Ruto accused the Cord coalition of allegedly dividing the country along ethnic and religious lines.
"We want to tell our friends they cannot blackmail us. They should wait until next elections because it is impossible to ascend to power at this time. There will be a government of the people and by the people," he added further stressing that Kenyans want to live as indivisible and united country.
He appealed to the farmers who are fleeing their homes not to do so adding that the government will put in place adequate security measures to ensure they are safe.
The Deputy President said that all leaders should be accountable for what they say and do and those who want to ascend to leadership through backdoor should wait until 2017.
Ruto also visited the scene where eleven people were murdered and held a four hour security meeting with Lamu leaders and security officers.
Interior security Cabinet Secretary Joseph Ole Lenku assured locals that police will do all within their power to deal with attackers.
Issa Timmamy
Tana River governor Hussein Dhadho who also chairs a security meeting in the governors council urged Kenyans not to allow themselves to be divided along religious and ethnic lines.
Lamu Governor Issa Timmamy and his deputy Eric Mugo also addressed the gathering and called for drastic measures from the national on the matter of insecurity in the county.
But Lamu Senator Abu Chiaba and Women representative Shakila Abdalla decried the slow responses by security agencies to pursue the criminals.
"The government should show action instead of rhetoric. They have the capacity to deal with these criminals. They should go to the forest and arrest them."
Lamu West MP Julius Ndegwa called for calm among the locals saying the government will handle the situation.
"This is a criminal act and has nothing to do with religion," the MP said.
Source-nation.co.ke
Ruto gives security chiefs 48hrs to arrest Lamu attackers or quit