Architect's wealth dream now a chain of 15 firms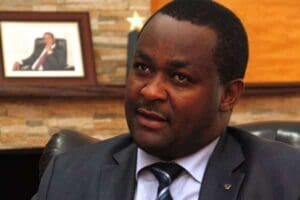 Billionaire Dream:While studying architecture, Mr John Kithaka dreamed about becoming a billionaire.
Right from the beginning, he understood that his career would not see him realise his vision if he chose to be employed.
He had a burning desire to create wealth and jobs.
It is for this reason that he forged links with other people who shared his investment vision.
"Our idea was to bring Kenyans together and create one of the biggest investment groups in the East African region," Mr Kithaka, founder and group chief executive officer of the Fountain Enterprise Programme (FEP) group of companies told Money.
FEP was started in 2002. It is a conglomeration of 15 firms with interests in schools, health centres, media, technology, security, insurance, money transfer, banking, retail, real estate, hotels, and tour and travel.
Some of the companies under its umbrella include MobiKash, Fountain Media, Fountain Group of Schools, Fountain Sacco, Nobel Insurance Agency, Suntec Supermarket, Fountain Credit Services, Fountain Technologies, Fountain Safaris, Kisima Real Estate, Nobel Insurance Agency, and Citadelle Security.
Currently with 37,000 members, the FEP companies' portfolio is worth slightly over Sh5 billion, according to Mr Kithaka.
"I used to ask myself, how do people become billionaires? How come professionals, with all their education, never understand how to become billionaires or multi-millionaires? I was also disturbed by the rate of unemployment that was prevalent in our generation," he said.
Mr Kithaka and six other people established FEP as a savings and credit cooperative society.
They would in the next four years conduct research on the route to take to grow wealth.
"We came up with a road map of 13 years to build an empire," he said. The first phase of the road map is to take the company to 2015.
In 2003, as they deliberated on how to invest, the seven friends started making monthly contributions of Sh2,000.
The amount kept increasing with time.
The monthly subscriptions were besides a one-off deposit of Sh400,000 made by each member.
The payment of the principal amount was spread over a period of two or three years to accommodate those who could not pay at once.
Forty-nine people were in the first group that paid the Sh400,000.
In 2007, FEP's membership had grown to about 60 people. Each member was tasked with recruiting more people.
"Everybody looked for 50 people who could give Sh200,000 over a period of two years," he said.
All was not smooth sailing, given that at some point the group's investment strategy raised eyebrows when it was accused of being a pyramid scheme.
The third group of members was recruited in 2012. Each new member was asked to contribute Sh10,000 within 20 months.
The group used its sacco establishment to diversify its portfolio by investing in ventures such as real estate, hotels, money transfer, and insurance.
"It is the same concept of the culture of saving which we transformed into a corporate investment structured in a way that converted people's savings into shares," Mr Kithaka said of the firm that today employs at least 1,000 people directly and indirectly.
Some companies were started afresh while others were acquired, a practice that Mr Kithaka says is ideal because it is much easier than launching an outfit from the ground. Of the 15 companies under FEP, 12 were started from scratch and three were acquired.
FEP is now in the process of establishing the Fountain Microfinance Bank, having received the green light from the Central Bank of Kenya.
The plan is to eventually roll out a fully-fledged commercial bank.
For 12 years, FPE's focus was on building a solid foundation for its businesses without expecting to make a lot of profit.
"Looking at our strategic plan, we knew that we would start making profit in 2014, but we actually made money in 2012 and 2013, when we had anticipated losses," he said.
Last year, the firm made a profit of Sh60 million, up from Sh22 million in 2012.
This year, FEP expects to make at least Sh100 million, inching closer to the Sh1 billion target in 2016.
-nation.co.ke