Politician Envoy Is Vital in Washington DC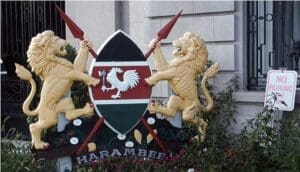 As expected, last week's appointment of politicians as Kenya's envoys to various diplomatic posts around the world has attracted quite a bit of condemnation.
Some have rightly called it rewarding political allies. Others, who are most likely to deny that the sky is blue as long as President Uhuru says it is, have got an opportunity to hit back at him.
But before hurling bricks at the executive we must ponder this: selection of ambassadors is the prerogative of the President. An ambassador is the representative of the President at his/her respective post.
Save for theocracies, Presidents and Prime Ministers are all politicians. It is therefore natural for a politician to believe that his interests can best be served by an individual who shares political capital as well as risks.
Some people believe that ambassadors ought to be career diplomats. I held this belief until it dawned on me that international relations are characterised by power play, games of thrones, hegemony wars, strategic considerations and pure old dirty politics. To succeed as an ambassador one must be politically savvy as well as a polished negotiator.
Without these attributes, an ambassador will while away his/her tenure attending cocktails, duplicating the work of the commercial attachés or simply observing protocol in the host country.
The President's appointment of politicians Njeru Githae, Chirau Mwakwere, Kiema Kilonzo and Sam Ongeri as ambassadors has been criticised without considering what these folks bring to the table. Some critics pretend that loyalty does not count in diplomacy.
Some Kenyans have condemned poll losers to oblivion yet losing a political contest does not mean you have nothing to offer in other areas.
The 21st century diplomacy is about strategy, and who can strategise better than a politician? This does not mean career diplomats are ineffective.
Appointment of politicians as envoys is not unique to Kenya. In 2011, US President Barack Obama appointed former Washington State governor Gary Locke as ambassador to China, yes China.
Two years earlier he had appointed former Republican Governor of Utah, Jon Huntsman, to the same post. Obama has also appointed two former presidential candidates, Hillary Clinton, and John Kerry, as secretaries of state aka Foreign ministers.
President Bill Clinton appointed former New Mexico Governor Bill Richardson as special envoy. In 1982, President Reagan appointed former Congressman and Governor of the US Virgin Islands, Dr Melvin Evans, as ambassador to Trinidad and Tobago. It is all about who can represent you and your policies effectively.
Back to Kenya. Of all the appointments made last week, Githae's stands out because Washington remains one of the most significant diplomatic posts.
The appointment comes in the wake of rumours in Nairobi and Washington that Obama and Uhuru secretly held one-on-one talks during the US-Africa summit. Whether this meeting took place is beside the point.
The real issue is that Uhuru recognises the need to have a strong and loyal representative in Washington to consolidate the gains made during the summit.
Kenya has been without an ambassador in Washington since the recall of Elkanah Odembo last year. Before him was the controversial pseudo-politician, Peter Ogego. Washington is a 24-hour high wire politics post.
The weak cannot survive here and if they do their presence is inconsequential. Ambassadors in Washington must know how to deal and influence policy in favour of their countries.
They must also be able to seize opportunities when they surface. Unfortunately the Kenyan embassy in Washington has been moribund for the last one and half years.
This is understandable considering the ambassador was just acting. The leadership vacuum at the embassy made it impossible to seize many opportunities.
Kenya and Uhuru, by virtue of his perception as the de facto leader of the East African Community, should have played a greater role at the US-Africa leaders' summit two weeks ago.
Uhuru's forays in Washington are seen as a diplomatic coup of sorts. The speed at which he appointed an ambassador to Washington clearly shows that the President must have gotten some concessions.
The hostility and rhetoric against the West has been muted. While addressing Kenyans in Washington, DC, the President said he had no illusion that there will ever be a significant and vibrant Kenyan diaspora in China as there is the US.
Further, he alluded that Kenya resolved to "look East" due to lack of options. This was a clear hint he was ready to re-engage Washington. This necessitated the appointment of a loyalist.
Githae has his work cut out for him. He must fast track the resumption of normal relations between Kenya and the US. Managerial skills, networks and political savvy are a requirement for Capitol Hill. He must engage inside and outside the state department. This is where political acumen comes in.
He is also expected to reorganise, refocus and boost morale of embassy staff. As a politician, Githae is expected to immediately tap on the strengths of all, not select, diaspora groups and smartly engage influential lobbyists on K Street to push Kenya's agenda as a top African country.
The writer coordinates international programmes at the University of the District of Columbia, Washington, DC.
By Timothy Kaberia
-The Star