Kenyan Athlete,Lornah Kiplagat launches own apparel line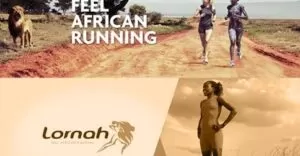 Kenyan-born, Dutch multiple World champion in distance running,Lornah Kiplagattoday launched her own apparel line 'Lornah' for active women in Amsterdam.
Kiplagat is renowned for her powerful, offensive running style that evokes associations with a lion. Her nickname isSimba, which is Swahili forlion. The lion is therefore inseparable from the sports brandLornah.
Onher websiteshe describes wearing Lornah as "feeling the spirit of Africa on your skin, in your soul, in your life".
Lornah offers unique feminine African designs, fine fabrics and an exceptionally elegant fit. You wear Lornah to perform, to feel good, to enjoy life.
Lornah Kiplagat and friend model her own apparel brand wear – 'Lornah' for active women / Photo Credit: Lornahsports.com
Screenshot of 'Lornah' apparel online store for active women / Photo Credit: Lornahsports.com
About Lornah
Lornah Kiplagat was born in Kenya in 1974 and became a Dutch citizen in 2003. The long-distance runner has several world records to her name, has won four world titles and one European title.
In 2007 she became world champion cross-country running in her homeland and she participated in three Olympic Games: Athens (2004), Beijing (2008) and London (2012).
She won the marathons of Los Angeles (2x), Amsterdam, Rotterdam and Osaka, was second in Chicago and third in the New York City marathon. Lornah is also the founder of the High Altitude Training Center (HATC) in Iten, Kenya, which she runs together with her husband Pieter Langerhorst.
Check out the Lornah online store at:Lornahsports.com
-athletics-africa.com