Raila allies to register new party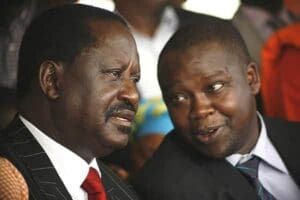 Cord leader Raila Odinga's allies are in the process of registering a new party, Saturday Nation has learnt.
Records at the Registrar of Political Parties show that the partners applied for the registration of Okoa Kenya Patriotic Party on July 10.
This happened only three days after the Saba Saba rally at Uhuru Park where the Cord leaders announced that they would push for a referendum dubbed Okoa Kenya to lobby for major Constitution amendments to safeguard devolution and entrench reforms.
Okoa Kenya committee of experts chairman Paul Mwangi and Cord secretariat head, Mr Norman Magaya, separately confirmed that they are registering the party to protect it from "political mercenaries" who could hijack it for their own gain.
This evokes memories of the scramble for the Orange movement between Mr Odinga and his Cord co-principal Kalonzo Musyoka in the aftermath of the successful No campaign during the 2005 referendum on the Bomas draft.
Buoyed by the popularity of the No vote, whose symbol was the Orange, Nairobi lawyer Mugambi Imanyara secretly registered the Orange Democratic Movement (ODM) as a political party ahead of the 2007 General Election.
This forced key movers of the Orange campaign Mr Odinga, Mr Musyoka, William Ruto and Musalia Mudavadi to register ODM-Kenya.
As the 2007 General Election approached, Mr Odinga and Mr Musyoka parted ways, with the latter taking off with the new party which had been registered by his ally, Mbooni MP Daniel Maanzo.
Mr Odinga and his associates including Mr Ruto, Mr Mudavadi, Mr Joseph Nyagah and Mr Najib Balala struck a deal with Mr Mugambi to take over ODM.
"We have registered and patented the name Okoa Kenya to ensure nobody registers it as a political party or uses it to achieve their own selfish ends. We want to avoid a repeat of the past," Mr Mwangi said. Mr Magaya said mercenaries previously secretly registered parties named after popular movements.
However, the move could raise questions about the future of ODM, which is in turmoil over abortive party polls and over whether Mr Odinga should contest the next election or not.
Just like he abandoned the Liberal Democratic Party for ODM in 2007, Mr Odinga could move from ODM to Okoa Kenya if it gains momentum at the planned referendum.
Mr Odinga is fighting to keep ODM intact in the wake of infighting between his allies and a camp allied to Budalang'i MP Ababu Namwamba and Mombasa Governor Ali Hassan Joho.
Last Thursday, Nairobi MCAs led by Majority Leader Elias Otieno attacked the party's Executive Director Magerer Lang'at and forcibly ejected him from a Cord parliamentary group meeting at Orange House.
They accused him of disloyalty to the party. But Mr Namwamba's allies maintain that the attack was part of a wider plan to kick out their camp from the party.
Three MPs allied to Mr Odinga, Dr Paul Otuoma (Funyula), Mpuru Aburi (Tigania East) and Peter Kaluma (Homa Bay Town) accused Mr Lang'at of trying to rig the failed February 28 poll in favour of Mr Namwamba's camp.
On Wednesday, Mr Wafula Buke declared himself the acting executive director, a move that was dismissed by acting Secretary-General Anyang' Nyong'o.
ODM has constituted a disciplinary committee to investigate circumstances under which Mr Lang'at was ejected.
Mr Lang'at has been summoned to appear before the team on Monday at 10.30am. In a letter dated November 7, signed by the committee chairman, Mr Fred Athuok, Mr Lang'at is expected to shed light on complaints over management of the secretariat.
-nation.co.ke