Sarika Patel 'kidnapped' then rescued by Bukusu darling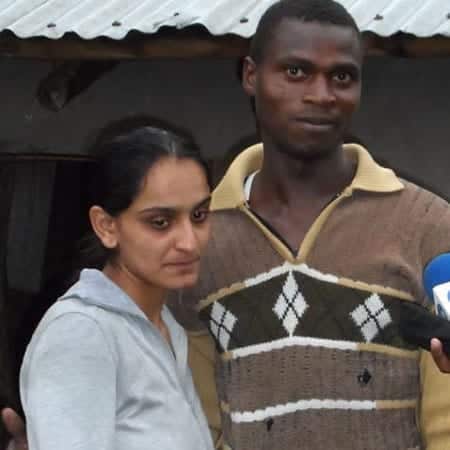 Sarika Patel, the Asian woman who caused a sensation a few months back when she married a Bukusu man, was allegedly kidnapped about two weeks ago from a hospital in Webuye, throwing Timothy Khamala her Bukusu darling into panic.
"She had been unwell, and because I was busy with some work, she went to Lugulu Hospital for treatment," says Khamala. But by sunset, Khamala says his wife had not returned, and her phone was switched off.
"Not even for a second did I think she had fled. I knew something wasn't right. So I started asking around. It was a really long night," Khamala says.
The next day, Khamala received information that Sarika's family had taken her to Nairobi for further treatment.
He was told this by the local chief who in turn said he had been told to pass the information to Khamala by the area DC.
"I patiently waited for two days and tried to reach her on phone. Her number was still switched off. Then she called me on Wednesday November 12."
"She was whispering into the phone and asked me to come rescue her. She told me she had been kidnapped by her family and was held at a family-owned apartment in Westlands, Nairobi," says Khamala.
County411 rescue
With no funds to travel to Nairobi to rescue his love, Khamala turned to social media where he appealed to County411, a Facebook group hosting many professionals from Western Kenya.
His plight was taken up by several professionals from Western Kenya, and Dr Anthony Walela took over the rescue mission by facilitating Khamala's trip to Nairobi.
"He arrived here on Saturday night and we went to my home with 10 other Luhya professionals, amongst them engineers, doctors and lawyers. We were all committed to helping this young man," says Dr Walela. They all agreed to visit Sarika's home diplomatically and ask for the release of Sarika to be reunited with her husband.
"Come Sunday morning, we all went to Westlands to iron out issues with Sarika's relatives," added Walela.
The group was allegedly denied entry by security guards, but later asked to come for her that afternoon.
"All this time, we could hear Sarika's cries from one of the apartments, as she pleaded with her relatives to let her join her husband," says Dr Walela.
Her screams tore me
Khamala says his wife's screams tore his heart.
"I had resolved not to leave without her, but had to hold myself back for the sake of the respectable company I was in and the help I had been accorded," says Khamala, adding that they left without her, but only to re-strategise.
Back at Dr Walela's house, the group's game plan was to persist till the end of their mission.
"We went back to Westlands but weren't allowed in until about 7.30pm. Several of Sarika's uncles tried talking us out of the mission and asked Khamala to accept a handsome reward instead. But we stuck to our guns," says Dr Walela.
Khamala says he was really moved when Sarika, who later joined the meeting, flatly turned down her relatives demands and insisted on going returning home with her husband. Eventually, the relatives relented and let her go.
"Being reunited with my love was the happiest day of my life. When I was being held captive, my parents had promised to give me the Westlands apartment, if I agreed to leave Khamala. They also wanted me to join my sisters in Australia, but I totally refused. I love this man and nothing will ever keep us apart," a tearful Sarika told The Nairobian.
The couple travelled back to Nangina village in Webuye on Tuesday, November 18.
In an earlier interview with The Standard, Khamala narrated how they met: "I was washing her father's car and she asked for my number. But I was too afraid to give it out. I thought this was a scheme to have me fired."
Sarika is the daughter of Chabbadia Patel, the owner of several business enterprises in Western Kenya.
She is the fourth-born in a family of seven. Those close to the family say Sarika is her father's favourite.
Source-standardmedia.co.ke
Sarika Patel 'kidnapped' then rescued by Bukusu darling