2 killed in Garissa Christmas attack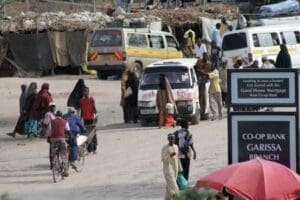 Two women were Thursday night shot dead by unknown gunmen in Garissa town, County Commissioner Rashid Khator has confirmed.
Mr Khator said armed men stormed the 37 old year woman's home at Bula Sagaray before opening fire and killing her instantly.
A teenage girl, 13 years old who was seriously injured during the shooting died at Garissa referral hospital moment after arrival.
Neighbours who spoke to nation.co.ke said that the woman was in her shop at her home when the gunmen struck at 8pm.
Eyewitnesses who decline to be named for security reasons said the teenage girl who is related to the woman tried to shield her from the attackers but they fire at her too.
Mr Khator said police have launched an investigation into the incident which he called a 'rare case'.
"It's rare occurrence because we have not witnessed an incident where women are killed, we are yet to know the motive of the attack but we have launched an investigation and soon we will apprehend the culprits," he said.
There have been have been a series of attacks in Garissa since Kenya Defence forces crossed the border to neighbouring war torn Somalia.
Three weeks ago one person was injured after unknown people hurled a hand grenade into a food kiosk.
-nation.co.ke