Uhuru asked to reshuffle Cabinet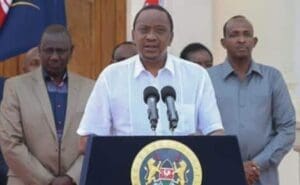 Lugari MP Ayub Savula has asked President Uhuru Kenyatta and his Deputy William Ruto to consider reshuffling the Cabinet and send packing ineffective office holders as a New Year gift to Kenyans.
Speaking to the Press in Eldoret yesterday, the Lugari legislator told the President to do a detailed analysis on Cabinet secretaries, retain the effective ones and send home those who have failed Kenyans.
"It is free advice. Cabinet secretaries who have not been effective in serving Kenyans are an impediment to the fulfilling of the current government's manifesto. Replacing them with effective individuals will be a boost for the current leadership and a gift to Kenyans," he said.
unfair competition
Savula pointed out the agriculture sector which he said was once vibrant and but was now collapsing.
"Under the leadership of the current deputy president as minister for Agriculture, farmers had started finding hope and motivation to initiate more projects," Savula said.
The MP said if the President holds on to those who have so far done very little to impress the farmers across the country, the Jubilee coalition's popularity will drastically diminish.
"It is not poor maize and milk prices alone. Tea farmers are crying over reduced bonuses, the sugar-cane industry that sustains the Western Kenya and national economic growth are all on the verge of collapse. Something must be done to reverse the situation," he said, adding: "The country is importing sugar, maize and even powder milk from neighbouring countries and yet the Cabinet secretary is doing nothing to save the local farmers from unfair competition by unscrupulous traders involved in the scam," Savula said.
He said maize prices have dropped from Sh3,000 per 90kg bag to Sh2,300. A litre of milk, he said, is trading at a market price of Sh30 down from Sh40 while a tonne of sugarcane has dropped to Sh3,000 from Sh4,000.
-standardmedia.co.ke