COTU BOSS ATWOLI ALLAYS CLAIMS OF ILL HEALTH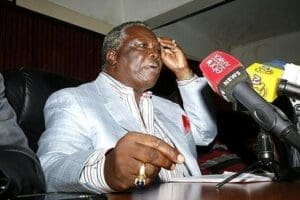 The Central Organisation of Trade Unions (COTU) boss Francis Atwoli has dispelled rumours that he is admitted at hospital and is recuperating from a massive stroke.
Social media has been abuzz with reports that the Cotu secretary general is admitted at the Nairobi Hospital, having suffered a massive cardiac arrest.
Some reports claimed he was fighting for his life.
But speaking while to Nairobi News in his usual lively self on Wednesday, Mr Atwoli said he was well an that he only went to hospital to pick some medicine.
"I am well… when people see you going to hospital to get some medication they imagine the worst," Atwoli said on phone.
Close family members and aides also confirmed that the fiery trade unionist was fine and on his way from Kajiado where he had gone to check on some projects.
A source, however, said the outspoken Cotu boss had been admitted at the hospital for three days since Sunday and was discharged Wednesday.
Social media claimed he had suffered a massive stroke and was rushed to Nairobi Hospital.
-nairobinews.co.ke