Kenyan Gospel Star Gloria Muliro Walks Out of Her Broken Marriage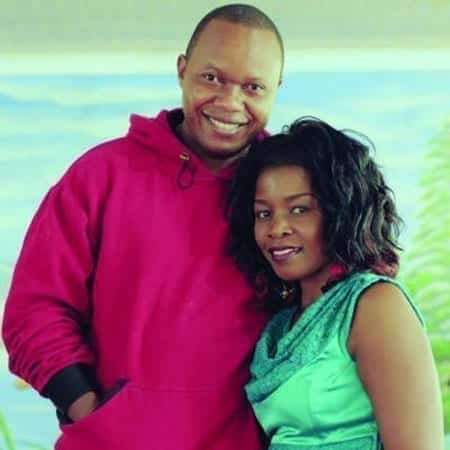 There are very few media accounts of the glitzy ensemble that was singer Gloria Muliro and Eric Omba's wedding on that sunny day at the PCEA GuestHouse in Nairobi West. Hardly a year had lapsed on that day in April, 2010, since the two had met and started dating, yet here they were, happily making their wedding vows before a crowd of witnesses; family members and close friends.
At the time no one would imagine that the glamour, song and dance of the happily-married-thereafter scenario would shrivel away into the sunset and usher in a nightmare that has been the pair's five-year affair, which culminated with them going their separate ways on November 29, last year.
That morning, after the two had lived together under one roof, but slept in different rooms and eaten from different pots, Eric gathered a few belongings among them their matrimonial mattress, utensils and a television set and, without bidding goodbye, drove off never to come back again.
Motionless, Gloria watched him walk out of her life. Ironically, this was something he had dared her to do from the first year of their marriage.
A few days later, Gloria left the residence, fearing for the worst after what she describes as a marriage marked with death threats. She had lived a double life; ever smiling singer by day, troubled spouse by night.
"I was trying to hide it all to protect my husband as a servant of God till I could stand it no more," she explains.
It is a story webbed around claims of marital infidelity and mistrust, abuse and violence. Its tentacles net individuals within Spotlight, the couple's recording stable, their church Omba Ministries based in Kayole and a chain of small enterprises and alliances.
True to form, the protagonists of this betrayal and backstabbing are young girls and women who always referred to the couple as 'mum and dad'.
Wedding night
Fury and untold anguish is painted on Gloria's face as she narrates how a man she loved betrayed her trust.
Her calm demeanour belies a union that was rocked by the issue of child birth, probably painting a clear picture as to what could have been the core issue in this break up. Half-heartedly, Gloria laughs about it.
"Let me say that my first shock was on our wedding night. After the weddingceremony was over and we were left at PCEA Guest House where we were to spend the night, I went to the bathroom to shower only to come back and find Eric opening the gift envelopes, removing the cash and throwing the envelopes in the bin then stashing the money in his pockets.
I wondered if this is what one does on the night of their wedding," Gloria recollects, tears dripping from her eyes as her friend Shenel calms her down. Another family friend Humphrey looks on. The otherwise comfortable Java Coffee house couch feels a bit uncomfortable as emotions start to overwhelm her in the rather busy spot.
"In the first month, cracks had already developed in our marriage as he kept on accusing me of all manner of things and never gave me time to talk. He even wrote down a set of rules that I must follow. In that first month, he sent me over to a friend's place saying she would teach me how to cook and keep good hygiene only to discover that I was being turned into a house girl. He went back to our house and expressed delight at how he was happy at home without me. In the first year, he packed my clothes and asked to escort me away. He had gotten violent over time and he offered no space for communication and dialogue," the 'Sitolia' hit maker claims.
This was no longer the cool and collected, loving and protective man Gloria had met at the New Hope Church on August 9, 2009 just after a bad breakup that had come after a courtship of four years. He said he was in love and was ready to settle. She wanted time to heal.
"Don't let your bad past hold back your good future," insisted the Congolese national who has lived here for about ten years. She agreed with him and soon the two became an item.
Quickly, they moved to a new church in Kayole whose original name was Logos Assembly, a ministry associated with Gloria Clay, an international gospel minister said to have a personal relationship with Eric Omba, now the key minister at Omba Ministries.
According to Gloria, Eric then started managing Gloria's music career and consequently started dictating how it would be handled, after the two opened a joint account where all the performance and music sales cash would go.
Extra-marital affairs
Even as her fans celebrated her achievements, which were supposed to turn her into a young millionaire, silence, sorrow and loneliness rocked her heart, not to mention financial constraints as she had little, if any, access to the cash realised from her hard work.
In our possession are copies of bank receipts amounting to over one million shillings drawn from the couple's bank account, for the purchase of land in Rongai. We also have in our possession, copies of documents issued by the Kajiado County Physical Planning Department that have Omba Miko Eric and Rachael Ongama, a senior member in Omba Ministries, as the joint applicants.
This is the same piece of land Gloria and Eric have been visiting, and instructing an architect to draw up a maisonette plan for. We have also obtained copies of the plan. According to Gloria, the money to buy the land came from the Sh4 million (or thereabouts) she made during the nationwide Safaricom tour, last year.
"I discovered that there were issues between Eric and Gloria in November 2013 when I joined Spotlight as a video producer but I also noticed that he was a good pretender. Mum (Gloria) would sometimes come to the studio crying and we knew he was harassing her or something.
In front of everyone, he would order her around like a small baby. Clearly, this was not a happy marriage," claims Cobby Joe, a Spotlight Productions staff members who left the stable on November 24 last year, following numerous disagreements with Eric.
"He would bring young girls to the studio in the name of clients but for days they would not record a song as they were not given studio time. You could see that they were there on a different agenda and constantly I would rebuke him, warning him that the girls would soon spoil his name. But this just got me into trouble," Joe, who has since started his own stable told Pulse on Tuesday, a week into our probe.
"One of them was an upcoming artiste called Esther Maina, one was called Sly and the other, Trizzah. I knew Eric was having a thing with them behind Gloria's back," Joe remarks, confirming Gloria's fears.
African culture
"I always knew he was cheating on me and friends would always come around with reports but I always shut them out. I did not want outsiders, but God, to show me the truth. In fact, besides my family and one bishop, no one else knew the hell I was going through," says Gloria.
But Eric denies ever cheating on Gloria, least of all with Sly and Esther whom he termed as girls who regarded the couple as their parents.
"We have had issues just like any couple has but that has to be kept within family boundaries. I have never left our matrimonial home and you can come over and find out for yourself. In African culture, a man is never allowed to leave his home. If she is really my wife she can't afford to say that," Pastor Eric defends himself.
"All the misunderstandings in the family should be solved through dialogue and not violence and that is what I would insist on. If there is a separation issue here, I can't really talk about that as that is not me. I love her and she is the only woman I know so how can I talk of separation," he says.
But when asked if Gloria was still living in the same house with him and if the two are on talking terms, Eric remains cagey, noting that he can't speak on her behalf.
"I moved out of the house three weeks after he left as I was feeling strange there and feared anything could happen to me, and he even came over when I was moving out. It is not strange that he went back so as to make it look like I am the one who had moved out," Gloria answers.
According to Eric, Gloria is the one wrote the cheque for the land they were buying.
"That is true. The land is supposed to be in my name and hers but that did not happen for some reason and she is aware of that. But still, all our property belongs to her and I," Eric maintains as he goes ahead to deny that he mismanaged Gloria's music career and remained secretive on the amount he was raising from the shows as her manager, a position he also denies he occupied.
According to Joe, Esther who had a Kikuyu song produced at the Gloria-Eric owned Spotlight production house, became very close to Eric and even ended up working at Spotlight Cyber Café, a Rongai cyber and M-Pesa agency that had previously been run by Trizzah, the girl Joe argues, Eric had a one-month affair with.
Sly (also known as Sly Rochelle William on Facebook) used to be in a dance group called Alter Queens, who used to minister with Gloria at her concerts before she was signed up by Eric under Spotlight.
"The closeness between Sly and Eric knew no boundaries. Whenever they were together, he never used to behave like a married man. She went ahead to tell other girls that she had never seen a man as handsome as Eric and that she knew he did not love me. I came to find out that they were having an affair, just like he was with other girls. He would tell me that openly through provoking messages that he would post on Facebook and Twitter," Gloria recounts, something that Eric claims was just him being 'social'.
"When I noticed that my wife was not happy with Sly, I went ahead to terminate her contract at Spotlight," he claims.
More love, more problems
Even then, Gloria claims that this was only meant to keep the affair out of the studio. She claims that Tumi of Ghetto Radio, who is also a former Alter Queens dancer, has all the details.
"I love passi (Pastor Eric) as a dad. He is an honest guy," Sly told Pulse narrating how she got recruited into Spotlight Production.
But a few minutes into the interview, she pulls back and gets cold after she notices the direction the story is taking.
"Did you know that Eric and Gloria were not on good terms?" I ask.
"I know they have issues, that I have heard," she responds.
And we go on: "Is it true Gloria asked a friend to speak to your dad, Mr Edward, on your alleged relationship with her husband?"
"Yes, it is true. But even then, I tried to reach out to Gloria but she would not listen. The story that reached my dad was that Eric was in love with me and had already paid dowry and that hurt me," she confirms, adding that since then, Eric has terminated her recording contract at Spotlight. She and her parents left his church.
Sly goes ahead to admit that she and Eric met in Machakos sometime last year, the alleged getaway spot where the man of the cloth is said to have hosted some of his unamed girls.
"Yes, we met there but it's not something that had been planned as I did not know he would be there. I had gone to check out a school there when we met," she says.
Gloria claims that she is aware that Eric was the one who had proposed to take Sly to Machakos Medical Teachers Collage (MMTC) at the time.
"I have never been with Sly in Machakos. The only time I was there I was going to record the NPC Valley Road choir," Eric maintains.
Getting back to Trizzah (also referred to as Tracey), she says Eric was just a friend and customer who used to frequent 'her' Spotlight cyberstore, denying they had anything beyond that.
"He (Eric) used to get me clients and when I went to his studio, it was all about business. By the way, I am a married woman and I want to be left to enjoy my privacy," Trizzah scoffs before disconnecting the phone.
Eric admits that the girls worked at the cybercafé, adding that Esther was fired after she "stole" money from the M-Pesa shop.
"There were enough photos of the girls and Eric on the office computers some of which are unprintable and this is the evidence Eric knew I had before he fired me on a day I was outside the office," Joe claims.
Then there is the issue of children, or lack thereof.
"It is true that the joy and the union of a couple comes from babies and that is why the baby issue has been coming up. Gloria can't give me babies, only God can and we have been working on that. Probably if we had one these things would not be happening. I love my wife and if you meet her, greet her and tell her I love her a lot," Eric concludes.
Source- standardmedia.co.ke
Kenyan Gospel Star Gloria Muliro Walks Out of Her Broken Marriage