President Salva Kiir rushed to hospital in Ethiopia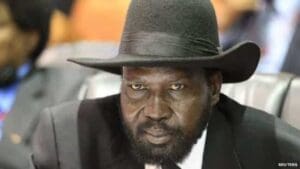 South Sudan's President Salva Kiir was Thursday rushed to hospital in Addis Ababa, Ethiopia after he fell sick.
The BBC reports that according to an official, Kiir suffered from nose bleeds but further details of his condition were not immediately available.
His hospitalisation delayed an IGAD summit where regional leaders were called to thoroughly and conclusively deal with the issue of the South Sudan conflict.
The IGAD meeting is being held in the sidelines of a two-day African Union ( AU) summit which is expected to start on Friday.
Kiir held talks in Addis Ababa on Wednesday with rebel leader Riek Machar to end the civil war which has killed thousands of people since December 2013.
-standardmedia.co.ke