Dagoretti MP mentioned in robbery with violence case, led goons in destroying private property
Dagoretti MP mentioned in robbery with violence case, led goons in destroying private property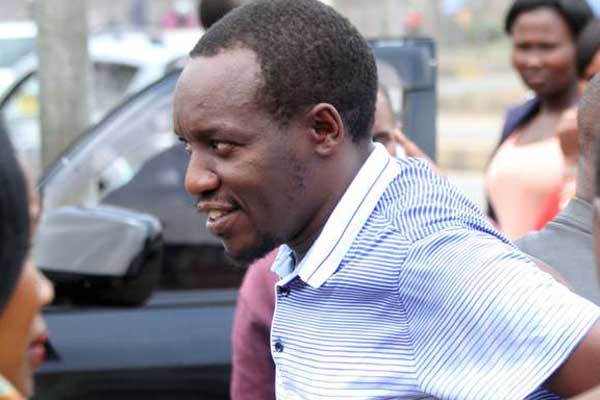 Dagoretti North MP Simba Arati allegedly led about 100 goons into a private piece of land and destroyed property on three occasions.
The accusation was made at Kibera Law Courts on Tuesday during the hearing of a case in which six men are charged with robbery with violence.
On May 11, 2014, Arati's gang broke down the gate to the property and threatened to destroy its walls, claimed Ashok Shah, MD of Summer Mount Holdings, the alleged owner of the land.
Shah told Chief Magistrate Judith Wanjala that he met Arati and the men on the property after his caretaker notified him of the incident.
The MP's bodyguard drew a gun at him during a confrontation but that they left after the police quelled the disturbance, he said.
Shah said he reported the matter to the police but that no action was taken.
He said he then made a complaint to the Parliamentary disciplinary committee, accusing Arati of misusing his powers to damage his property.
Shah claimed that the second incident took place on July 31, 2014 at about 6pm, when the goons burned his site office in Arati's presence.
He said he reported the matter directly to the Speaker of the National Assembly, noting that no arrests had been made.
The Speaker reportedly wrote to the Inspector General of Police asking him to conduct investigations and arrest the suspects.
While waiting for the police to take action, however, the gang returned with Arati and NLC chairman Mohammed Swazuri and broke down his gate and the door to the caretaker's house, Shah claimed.
He said he wrote a complaint to the Office of the President to which a reply from the National Land Commission was copied to Chief of Staff Joseph Kinyua
Shah presented copies of the letter in court, allegedly showing that he is the bonafide owner of the property.
He however did not provide the original title deed, saying it was being held against a loan by a bank and that he only had the certified copy.
Shah submitted photo and videos of the alleged incidents, which he said he obtained from the media.
A colleague and the caretaker are set to testify in the case.
Dagoretti MP mentioned in robbery with violence case, led goons in destroying private property