Bank Accounts linked to terrorism frozen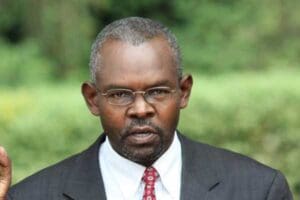 The Kenyan government has frozen bank accounts of people and institutions suspected to be funding terrorists.
National Treasury Principal Secretary Kamau Thuge on Wednesday said investigations would be conducted before action is taken against the account holders.
The PS made the announcement in a joint press conference by Cabinet and principal secretaries at Harambee House, Nairobi.
A statement read by Defence Cabinet Secretary Raychelle Omamo stated that President Uhuru Kenyatta's government had put in place measures to "extinguish terrorism on Kenyan soil."
Ms Omamo said the families of the victims would be given Sh100,000 and that the government would cater funeral expenses.
Education CS Jacob Kaimenyi said Garissa University College, where Al-Shabaab militants killed 148 people, has been closed indefinitely and survivors of the attack would not return because of trauma.
In a gazette notice published on April 7, 2015, the government listed a group of terrorist organisations which include Al-Shabaab and the Mombasa Republican Council (MRC).
The notice also listed 85 entities suspected to be associated with Al-Shabaab.