Man with estimated Sh500 million empire changing Akorino's view of money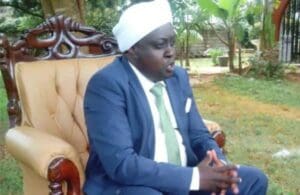 Man with estimated Sh500 million empire changing Akorino's view of money: Donned in a white turban and a black suit, Obadiah Maina majestically alights from his Toyota V8, wearing a big smile. The reason, he says, is because one of his initiatives,Good Life Sacco, may become a bank in two years.
The other reason is, he has been able to convince ardent adherents of his Akorino sect to review their view over wealth accumulation here on earth. "God did not create us to have a bad life, but all these things in the world were created by God to serve us as we serve Him," he says.
Through the sacco he helped found in 2012 in Thika, he has managed to show that being the sect's follower does not mean one cannot lead a good life or invest in business. How did he manage to overcome the limiting view of the sect?
Maina says that his late father taught him from a tender age that despite the promises in the Bible, he had to work to better his life here on earth. "During holidays, my late father used to take me through his coffee farm. He always said he wanted me to be an outstanding manager one day," says the 38-year-old entrepreneur.
The other thing his father emphasised was discipline, perhaps the reason Maina was able to start investing even when he earned Sh12,000 as a lecturer. Maina says his father made sure he understood discipline by buying him biographies of outstanding global entrepreneurs, which he read and kept the lessons at heart.
After completing his education at Giakaibei Secondary School in Mathira Constituency in Nyeri County 16 years ago, Maina jetted out to India through a friend, where he pursued an undergraduate degree in Information Technology at Jabalpur University. In 2003, he returned to Kenya where he landed a job at Institute of Advanced Technology College in Nairobi as a lecturer.
Man with estimated Sh500 million empire changing Akorino's view of money
Driven by lessons from his father, Maina says he kept his eye on the ball — success and in 2009 he was promoted to examination manager and his salary increased to Sh50,000. While still working as a lecturer, he saved Sh250,000 which he used to start a potato supplies business between Kinangop and Nairobi.
In 2009, one of his friends who had won a government tender approached him for financial assistance. "I lent him Sh318,000 on condition that he would repay with interest," he says. Maina says this transaction lit a bulb in his head. "I found out that many Kenyans were struggling to get loans to boost their businesses. The banks were giving them conditions that many could not meet,'' he says.
In November 2012, Maina recruited a few people and founded Good Life Sacco. They started with Sh60,000 and now the sacco is worth over Sh300,000. Maina prides himself as a shrewd salesman and within a month of opening the sacco, he pitched the idea of starting a school to a few people. They bought the idea and Red Hill Girls Secondary School, Limuru, Kiambu County, was born.
The sacco has now opened over 10 branches in Kenya and has more than 19,000 members. We are growing tremendously because we bridge the gap between the rich and poor," he says. He hopes the sacco will become a bank by 2017. He has also diversified into other investments and runs Good Life Insurance Agency and Good Life Homes.
The businessman is also trying his hand in real estate and is setting up two mega estates in Nyeri town worth Sh500 million. His empire, he estimates, is also worth Sh500 million. He takes a religious tone when dishing out advice: "You don't give up based on your background.
Even Jesus Christ was born and placed in a manger, but that did not deter Him from achieving His mission of saving the world. Stay focused, set a goal and come up with something that can transform the society," says Maina as he drives off.
By James Murimi @Jamesmurymy
-mediamaxnetwork.co.ke/peopledaily
Man with estimated Sh500 million empire changing Akorino's view of money