News anchor Janet Mbugua's wedding guests to pay Sh 20,000 per night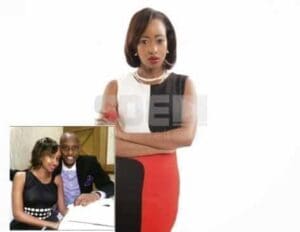 After her traditional wedding in November 2014, TV personality Janet Mbugua and her fiancé Eddie Ndichu are set to tie the knot on May 30.
That, fellow gossips, is not the gist of this enchanted wedding that is set to take place at the prestigious Chaka Ranch in Nyeri .
The guests, unlike in most village weddings, will be expected to cater for their own accommodation for the out-of-town event.
Janet, being a considerate host, went ahead to print out names of nearby hotels and encouraged her guests 'to make their reservations early.'
One of the hotels mentioned is Serena Mountain Lodge, which charges Sh19,974 per person.
The rest range from Sh6,000 to Sh17,000. She also included Batian Grand Hotel in Nyeri.
Janet and Eddie in their invite, say that their "guests' presence at our wedding is gift enough."
Any other gift should be registered at any Nakumatt branch, Mr Price and the Tile and Carpet centre, she said.
For those still asking about Eddie's background, he is the twin brother to Paul Ndichu, who is the baby daddy of Kiss TV's Grace Msalame's twins.
Eddie, a banker by profession, is an alumnus of Murdoch University in Perth, Western Australia.