Photos:Hundreds gather in Paris in memory of slain Kenyan students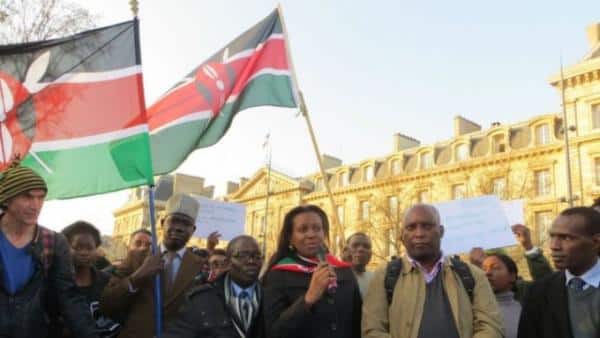 © Brenna DALDORPH I Salma Ahmed, Kenya's ambassador to France, thanks attendees at a memorial in Paris' Place de la République on Wednesday for vicitms of last week's attacks on a university in Garissa, Kenya.
Kenyan flags waved in the breeze over Paris's Place de la République Wednesday as several hundred people gathered for a memorial service for the 148 Kenyan people, mainly students, killed last Thursday by al Shabaab militants.
It took more than 15 minutes for attendees to read aloud the names of 112 of the 148 victims of the massacre, which occurred when gunmen from al Qaeda-linked al Shabaab opened fire on the campus of Garissa University College last week. Afterwards, a minute of silence was held for the victims not yet identified.
Organiser Baki Youssoufou said it was a way to humanise the victims.
"In the media, we've been seeing 148 died — not even 148 people died," Youssoufou said. "We decided to read the names of the children killed so that the tragedy would hit home. When you read the name Jessica, for example, it resonates because there are people named Jessica living in France."
Youssoufou organised the protest with his organisation Active Generation, an international collective that uses digital media to promote democracy and tolerance, and the Kenya Community in Diaspora. Youssoufou, who grew up in the Ivory Coast, Niger and France, said the turnout was "ten times" the size of previous protests organised by the group.
Still, while the grassroots presence was heartening, organisers were frustrated by the lack of official interest. While they said they had reached out to each member of French parliament, the only politician who attended Wednesday's memorial was the Kenyan ambassador to France, Salma Ahmed.
Ahmed, who bears an uncanny resemblance to Michelle Obama, thanked those assembled and reiterated the determination of the Kenyan people.
"We will remain determined, resolute and courageous," she said.
The organisers' frustration at official disinterest in the Garissa attacks reflects wider dissatisfaction expressed across social media. In Paris, many made the comparison with the international reaction to the bloody January attacks on the offices of satirical magazine Charlie Hebdo, located not far from Place de la République. Some 40 world leaders linked arms in solidarity with those killed at the unity march held a week later.
Many people at Wednesday's Garissa memorial carried signs proclaiming "Je suis Kenyan", a reference to the #JeSuisCharlie hashtag popularized after the January attacks.
'Harambee,' or coming together
Paris's Garissa memorial brought together a diverse crowd made up of Kenyans, Parisians and people from all over the world. One woman, clad in black, held a sign saying "147, not just a number" (the original death toll). She identified herself simply by her surname, Ibrahim.
"I came because I am Muslim and African and I want to show that doesn't equate terror," she said. "Nowhere in the Koran does it condone this."
Dorcas Obat, a Kenyan who is working on a PhD in international relations and diplomacy in Paris, came to the protest wearing a shirt emblazoned with the flag of her home country.
"The motto of the Kenyan people is 'harambee,' which means to pull together so I am here to show solidarity and compassion for families who lost their loved ones," she said. "I am also here to resist the menace of terrorism. We cannot cower, we have to fight."
It was hard to miss the tall figure of Stephen Kinuthia, chairman of the Kenya Community in Diaspora, as he held aloft Kenya's green, red and black flag. He was in Kenya for a conference when the massacre happened.
"We heard the news after dinner and it was like an atomic bomb hit. People couldn't believe the numbers of youngsters lying on the floor," he said, referring to the widely shared images of the students' lifeless bodies. "It's an image I'll never forget all my life."
Kinuthia returned to Paris two days ago, just in time to help organise the protest in Place de la République. He said this kind of international support is essential.
"For me, terrorism needs a global solution, or it will be today in France, tomorrow in Kenya, the day after tomorrow in another country and the story continues," Kinuthia said.
Since 2011, France has provided logistical support for Kenya as it participates in the African Union mission against al Shabaab in Somalia.
Al Shabaab cited Kenya's 'war' in Somalia as a major reason for the Garissa attacks and said that the'bloodbath' would continue.