EACC: No minister on graft list is cleared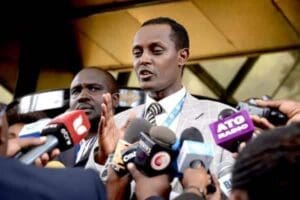 No Cabinet secretary is off the hook in the ongoing investigations into grand corruption in government, the anti-corruption commission said on Tuesday.
Ethics and Anti-Corruption Commission (EACC) said the final say on the cases facing four Cabinet secretaries lies with the Director of Public Prosecution (DPP) Keriako Tobiko.
"We forwarded the cases to DPP on Monday, with our recommendations. The DPP will look at the files and give us his recommendations. We can propose closure of files but DPP ask for further investigations," said EACC Chief Executive Officer Halakhe Waqo.
SEVERAL CASES
He said Land Cabinet Secretary Charity Ngilu, Mr Kazungu Kambi (Labour), Mr Michael Kamau (Transport) and Mr Felix Koskei (Agriculture) were facing several corruption cases and their fate can only be known once EACC completes its investigations.
"Those that you are talking about having been cleared have other pending corruption cases," he said at Kenya School of Government in Nairobi during EACC stakeholder's forum for validation of the proposed framework for monitoring compliance with Chapter Six of the Constitution.
On Monday, EACC asked Mr Tobiko to prosecute Mr Kambi and Mr Kamau for abuse of office.
Dr Waqo said the two institutions were working together in the war on corruption, adding that Mr Tobiko has provided 15 officers to work with EACC.
30 MORE DAYS
He, at the same time, asked President Kenyatta to add the commission 30 days to conclude its investigations into 124 corruption cases that it has been handling for the last two months.
Mr Kenyatta's 60-day ultimatum to EACC to wrap up investigations into the 'List of Shame' that he presented to Parliament ended on Tuesday.
The commission has concluded investigations into 56 files and 21 files have been forwarded to Mr Tobiko.
Attorney-General Githu Muigai said Kenyans have until June 5 to submit their memoranda on how to address various bottlenecks on the fight against corruption.
-nation.co.ke