Security suffers as police officers put patrol cars to personal use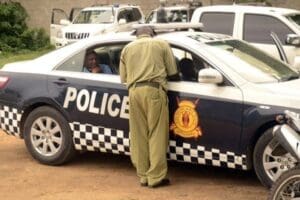 Details of how police patrol vehicles are misused at the expense of security can be revealed today.
A spot-check by the Nation revealed that presence of patrol cars in the streets has not increased as was expected, in the wake of the leasing of hundreds of emergency response vehicles to the police last year.
According to an officer who spoke to the Nation on condition of anonymity, senior officers assign themselves new vehicles upon delivery instead of giving priority to patrol duties.
Juniors on routine beats are not clean either, because they easily drive away from areas they are supposed to patrol and move to other zones dotted with bars and night clubs, as well as matatu termini with the aim of collecting bribes.
Before Inspector-General of Police David Kimaiyo left office last year, he challenged his lieutenants to come up with a "quick win" guide in defeating crime.
A key recommendations was that they draw fresh maps of areas under their command, detailing where crime was most prevalent and give a guide on how immediate action should be applied to reverse trend.
Seemingly, this order has not been implemented and it is common practise to see police cars moving round or strategically parked outside bars, whose owners routinely walk out to hand the officers bribes.
Innocent passers-by who happen to bump into the officers are not spared either. Most are rounded up and those who are not ready to endure the court bureaucracy are forced to buy their freedom.
By the time an entire neighbourhood is covered, the rogue officers have wasted an entire night, having used all the fuel in the car.
As much as Sh100,000 is collected in a single night from the many bars that populate Nairobi's densely populated neighbourhoods.
It is also common to see police cars carrying families of senior officers to their rural homes at the weekends or the officers' spouses to work and their children to school.
Rogue officers also ensure the fuel consumed while the cars are used for personal errands is paid for by the taxpayer.
The cars are fuelled at stations authorised by the service on the pretext the car is on official duty.
When contacted, Kenya Police Service (KPS) Spokesperson Gatiria Mboroki defended the service saying use of police equipment, including vehicles, is closely monitored, in the wake of reforms.
"Before a vehicle leaves for any duty, it has to be signed out and its movement is monitored. It is no longer easy to misuse police vehicles" she said.
Reports of police vehicles being spotted outside bars and dropping families of the top cops were also baseless, she said.
Ms Mboroki wondered why the public never report such cases of misuse of police vehicles to the police headquarters.
"It is sad that we keep complaining and yet we do not take the initiatives on our part to stop certain ills in the society. That is where we fail as a country" she said.
It is usually difficult to identify police vehicles on private errands especially those assigned to the Directorate of Criminal Investigations because they are mostly unmarked.
During his tenure as Commissioner of Police, Maj-Gen (rtd) Hussein Ali ordered all police vehicles branded with names of jurisdictions to which they are assigned as a way of monitoring movement.
While it partly helped in curbing misuse, the vice has not been eliminated altogether.
In 2013, the government leased 1,200 vehicles for the police following an agreement it signed with Toyota Kenya.
The Sh3 billion deal required the latter to supply, maintain and monitor use of police cars.
The Ransley Report, which was adopted by the government as a blueprint for police reforms and is still being implemented, described the police transport sector as chaotic.
But Ms Mboroki said the Ransley Report gave several recommendations which formed the basis for police reforms.
These have since taken effect and improved the effectiveness of the KPS, she added.
-.nation.co.ke