US Secretary of State John Kerry in surprise Somalia visit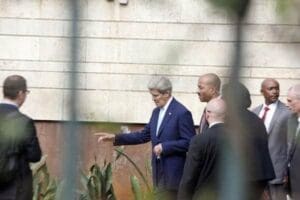 John Kerry made a surprise trip to Somalia on Tuesday, officials said, becoming the first US Secretary of State to visit the war-ravaged Horn of Africa nation.
The top US diplomat was spending just a few hours in the capital, Mogadishu, and was not scheduled to leave the confines of the fortified airport, where he was to meet Somalia's President Hassan Sheikh Mohamud and Prime Minister Omar Abdirashid Ali Sharmake.
"Secretary Kerry landed in Mogadishu, Somalia to reinforce the United States commitment to supporting Somalia's ongoing transition to a peaceful democracy," State Department spokesperson Marie Harf said.
"In his meetings with federal and regional government officials, he will discuss security cooperation and Somalia's progress towards meeting its reform and development benchmarks… He will also meet with civil society leaders to discuss the importance of a vibrant NGO sector and thank African Union troops for their role in stabilising Somalia," she said.
A senior State Department official described the visit as "historic".
"I think it will send a strong signal to the Somali people of our commitment," said the official.
Other senior foreign officials and leaders have visited Mogadishu in recent years, including Britain's former foreign minister William Hague and Turkish President Recep Tayyip Erdogan.
Mr Kerry's visit was to focus on the fight against Al-Qaeda's Somalia branch, the Shabaab, as well as efforts to build political security in the war-torn country.
"I think it will send a strong signal to Al-Shabaab that we are not turning our backs on the Somali people and that we will continue to engage with Somalia until we bring Shabaab's terror to an end," the State Department official added.
-nation.co.ke