Sh10 million bounty on German terror suspect who fled Sunday Lamu attack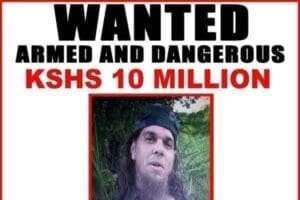 Police have released pictures of a German national who escaped with a gun wound during the botched Lamu attack.
They have placed a Sh10 million bounty on the man, believed to have been behind the attack on a military base in Barue last Sunday.
He is armed and dangerous, the police said in a notice on Wednesday.
Eleven al Shabaab terrorists and two Kenya Defence Forces soldiers were killed during the attack at the camp.
Luqman Osman Issa alias Shirwa, said to have been the terrorists' commander, was also killed.
British national Thomas Evans, aka Abdul Hakim, was also killed on Sunday.
The Star exclusively reported on May 29 that Shirwa and his gang had sneaked into Kenya and were planning attacks.
The police had placed a Sh2 million bounty on the terrorist after he fled into Boni forest; Amisom troops had captured him alongside other suspects at Kuday in Somalia.
Shirwa is believed to have been responsible for a spate of attacks on KDF troops and civilians in Kenya and Somalia's Lower Juba area.
He is said to have led attacks in Mpeketoni in between June and July 2014.
His brother, a suspect implicated in the 2002 Kikambala attack, is serving a sentence in Sudan.
– the-star.co.ke