Uhuru visits KDF soldiers injured during Lamu attack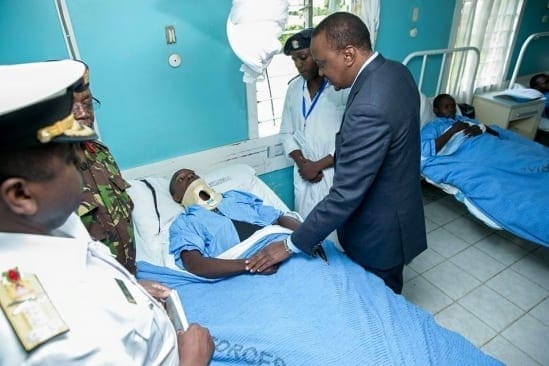 Kenya will not be intimidated by cowards who choose soft targets instead of fighting on the war front, President Uhuru Kenyatta has said. He said the fact that Al Shabaab has resulted to attacking soft targets means they are losing the war.
"They are seeking to intimidate us as a nation but we will not agree. We will fight them fiercely," the President said.
President Kenyatta was speaking Wednesday at the Defence Forces Memorial Hospital in Nairobi when he visited Kenya Defence Forces ( KDF) soldiers injured during an abortive Al Shabaab raid to a military camp at Baure in Lamu County. He wished the injured soldiers quick recovery.
The President called on Kenyans to stand united to defeat an enemy who seeks to impose a different code of life in the country.
"We are a nation that appreciates and recognizes the rights of every individual and their freedom of worship. We will not allow any person to force on us a way of life that is not ours," the President said.
He said Kenya is involved in Somalia under African Union Mission in Somalia (AMISOM) at the request of African Union and will continue with the mission to support the stabilization of the Horn of Africa country.
The Head of State commended the gallant KDF soldiers for their commitment to defend the country and assured them of total support as they execute their duties.
"We appreciate the good work that you do. We recognize that as you safeguard our country, each and every moment you are putting your lives in danger and risks so that Kenyans can be safe," President Kenyatta told the KDF.
He added: "We are here to support you, to show our gratitude for the work you do and to tell you that millions of Kenyans hold you in high regard and are grateful for the continued work that you do to defend our country from criminals."
Chief of Defence Forces (CDF), General Samson Mwathethe, thanked the President for the visit, saying it is a morale booster.
"To get you here is a blessing to us. As our Commander in Chief to come and share the victory that we have with us here today is really great," the CDF said.
Gen. Mwathethe said the injured KDF warriors are willing and raving to go back to make sure that the war against Al Shabaab is fought to the very end to make Kenya safe and sound.
"We will follow them in the bush, we will follow them at sea and we will follow them everywhere they go until we make sure they are out of our borders," Gen. Mwathethe said.
During his recent visit to South Africa, President Kenyatta attended a meeting of leaders of countries contributing troops to the AMISOM where they discussed ways of scaling up efforts to fight Al Shabaab and stabilize Somalia.
Source-standardmedia.co.ke
Uhuru visits KDF soldiers injured during Lamu attack