African Union forces capture another Shabaab stronghold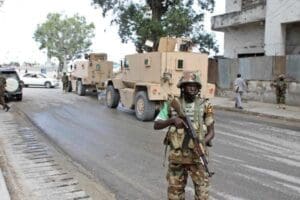 Somali government troops, backed by the African Union Mission in Somalia (Amisom) forces, on Friday captured the Al-Shabaab stronghold of Dinsor, the second town seized from the Al-Qaeda-affiliated Islamists this week, the defence minister said.
"Our forces have secured control of Dinsor, and the insurgents have fled after losing the battle … the troops are now conducting security operations to clear the town," Somali Defence Minster General Abdulkadir Sheikh Ali Dini told reporters.
The fall of Dinsor comes after the capture by AU troops of the nearby town of Bardhere on Wednesday, some of the last key towns held by the militants.
Witnesses confirmed the takeover of the southern town, saying Al-Shabaab fighters fled ahead of government and Ethiopian troops with the AU force, pulling out of the town on Thursday afternoon.
"Most of the residents fled, so it looks like a ghost town," said resident Mohamed Added, adding that the government troops were in control. "There are very few people remaining, most of them elderly," he said.
Amisom last week launched "Operation Jubba Corridor" — an offensive it said was aimed at flushing the insurgents out of rural areas in southern Somalia and which has involved Ethiopian and Kenyan forces, officials said.
Witnesses have reported heavy casualties in the offensive, with civilians caught up in the fighting.
Al-Shabaab is fighting to overthrow Somalia's Western-backed government, which is propped up and protected by the 22,000-strong Amisom force.
-nation.co.ke