Two Diaspora Kenyan scientists feted among 100 influential people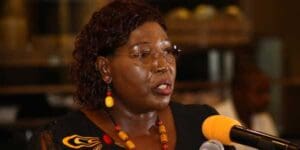 Two Kenyans have put Kenya on the global map once again after they were listed among world's 100 most influential people in promoting biotechnology.
Africa Harvest founder and CEO Dr Florence Wambugu and Prof Calestous Juma of Harvard University were recognised by Scientific American's Worldview, a publication on biotechnology, alongside Microsoft founder Bill Gates and his wife Melinda.
"I'm humbled by the recognition," said an elated Wambugu, adding: "Being in the same list as one of my mentors, Prof Juma, as well as Bill Gates, who supported our Africa Biofortified Sorghum Project, is very humbling."
The 100 individuals are picked by an international panel of experts. The publication said they made it in the list because they have exhibited creativity, enterprise, and resilience and have made many sacrifices to advance biotechnology.
"And since risk-taking is practically the norm in biotech, these figures have to possess the confidence to out-dare the crowd, to blaze a trail and to maintain their nerve, sometimes against overwhelming odds," it said.
They are described as "visionaries who continue to reshape biotechnology and the world". On her part, Dr Wambugu said her passion for biotechnology is driven by the desire to achieve an increase in food production for the benefit of farmers and end incessant food insecurity.
"Agricultural innovations are essential for transforming and revolutionising agriculture in Kenya and Africa as a whole. Biotechnology, and more specifically the genetic engineering technology, is one of the many tools available to help achieve this transformation," she said.
Wambugu has made significant contributions in research, development and improved production in maize, pyrethrum, banana, sweet potato and forestry in Kenya and has published more than 100 articles and co-authored various papers. This has earned her several local and international awards and grants.
Currently, Wambugu is serving as a Council Member of the Japan Science and Technology in Society Forum. The Africa Harvest Biotech Foundation promotes the use of advanced science and technology products to improve agricultural productivity among farmers in Africa.
Prof Juma, on the other hand, is professor of Practice of International Development at Harvard Kennedy School and Director Science, Technology and Globalisation Belfer Center for Science and International Affairs. He was named among the most influential 100 Africans in 2012, 2013 and 2014 by the New African magazine.
Others in the Scientific American's Worldview list include Founder and Emeritus Chair of ISAA Clive James, Cairo University and Egypt Biotechnology Information Centre's Naglaa Abdallah, Mahaletchumy Arujanan of Malaysian Biotechnology Information Centre, Pennsylvania State University's Nina Fedoroff, University of California's Pamela Roland and Davis and Judy Wang of DuPont.
-mediamaxnetwork.co.ke