Mzee Ojwang' was my good friend – Mama Kayai speaks out on loss of close colleague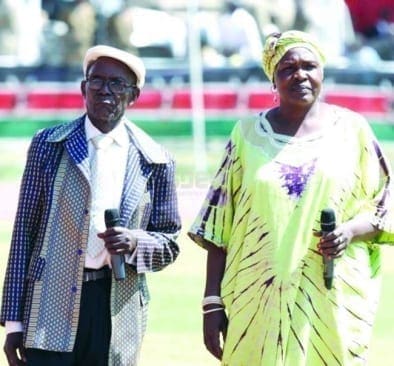 Ojwang in Luo is a name for something that has been abandoned. Mzee Ojwang Hatari, the late lamented comedian was abandoned in his last days after years of entertaining a whole generation of Kenyans.
As he ailed, Kenyans abandoned him. The state abandoned him. The Kenya Broadcasting Corporation (KBC) too abandoned him after scrapping the Vitimbi show that made him and the station famous.
Mzee Ojwang was looking forward to meeting President Uhuru Kenyatta during the opening of the revamped Kenya National Theatre (KNT) to express his disappointment after his dismissal from KBC after 40 years of service.
Uhuru eulogised Mzee Ojwang for his "unstinting reliability in delivery" and that the  entertainment industry "will grieve a man of simple but ferocious loyalty to his trade."
Indeed, many Kenyans believed Mzee Ojwang (Benson Wanjau) and Mama Kayai (Mary Khavere), his screen spouse,  were a real life couple. Online messages after his death are to the effect that most Kenyans were sad that Mama Kayai has lost her life long hubby.
Such was their on screen chemistry in their Vitimbi comedy show where the Luo-accent of the mouthfully named Ojwang Hatari Ondiek Mang'ang'a easily convinced viewers he was an 'omera' as he left many in stitches with his elastic facial expressions and rubbery limb movements.
To many viewers Mzee Ojwang was a proud Luo patriarch who ran his household as a strict disciplinarian.
And the 'house of Mama Kayai' is mourning the death of Mzee Ojwang  as  the Vitimbi cast was a closely knit family. "Mzee Ojwang was a very good friend of mine, on and off the screen, given the many years we worked together," Mama Kayai told The Nairobian. "I met him in 1985 when we did the first Vitimbi show together and our stage chemistry led to the success that the show enjoyed over the years. This and the moments we shared will always remain in our memories."
Although they were an on screen husband and wife for years "There were no romantic involvements," says Mama Kayai, adding that both their families understood theirs was just work and it never brought any friction.
"The entire team maintained respect for each other all time, hence our longevity together," she explains, even as Kenyans on social media sent messages condoling Mama Kayai "for the loss of your long-time husband Mzee Ojwang."
However, Mzee Ojwang's real life wife is Augusta Wanjiru.
Mama Kayai's sentimental were echoed by Gibson Mbugua, the 'prosecutor' in the old Vioja Mahakamani courtroom comedy. "Mzee Ojwang' is the one who taught me acting when I was still a very young boy in 1980. For that, I will forever be grateful to him," Mbugua says. "Mzee used to have a theatre group called Tausi Drama Club that used to practise at Bahati Social Hall, where I would go to watch them every day," adds Mbugua.
Ojwang noted Mbugua's interest and introduced him to acting and the industry where he has been since. "One of the things Mzee taught the Vitimbi and Vioja Mahakamani cast is how to be humble. Whenever he found himself in an argument, he would either keep quiet or simply walk away," the 'prosecutor' said. "Despite his antics on stage, he was a very shy man off camera and could hardly express himself," he adds.
Mama Kayai concurs that Mzee Ojwang "was a very humble man and despite being a household name, he still lived in his simple house in Bahati estate."
Mzee Ojwang' was my good friend – Mama Kayai speaks out on loss of close colleague