Raila's sister sets eyes on Kisumu governor seat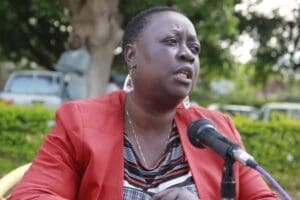 Kisumu Deputy Governor Ruth Odinga has said she will contest the Kisumu County governor seat in 2017.
Ms Odinga vowed to unseat Governor Jack Ranguma in the next general election.
She said she will not contest for any seat other than that of a governor.
The deputy governor dismissed as rumours claims that she was planning to contest the Kisumu Central parliamentary seat.
"The men saying that I want to be MP are only afraid of me. I am already in the governorship and there is no turning back."
"At the moment I am working with Ranguma to build a strong county. I will contest when the race is open and that does not bar us from working together," said Ms Odinga.
Ms Odinga was speaking at a meeting hosted by the Centre for Multiparty Democracy on the two-thirds gender rule in Kisumu on Thursday.
She said she has experience and skills to transform Kisumu County as governor.
There has been speculation that Kisumu Senator Anyang' Nyong'o will also contest the governor seat.
At a recent meeting with a joint Senate committee on Finance and Devolution, Governor Ranguma said Prof Nyong'o was not the best arbiter for his case.
He claimed the senator has political interests in the county.
"He (Prof Nyong'o) has already declared his interest in the governorship of Kisumu. I do not know how the committee will handle a potential conflict of interest," he said.
Prof Nyong'o has however denied that he has personal vendetta against the governor.
-nation.co.ke