Sack disloyal Ngilu, Ukambani lobby tells Uhuru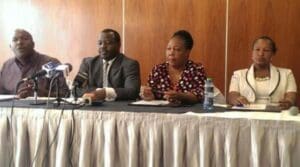 NAIROBI, Kenya, Jul 21 – Calls have been made for suspended Lands Cabinet Secretary Charity Ngilu to be sacked following reports that she was in talks with the Opposition.
A group referring to itself as the Ukambani Progressive Forum led by former Kitui South MP Samuel Kiminza says the indecisiveness portrayed by Ngilu was depicting the Kamba community in bad light and urged President Uhuru Kenyatta not to be blackmailed into keeping certain individuals in office.
"If you are in the Jubilee Government stick there, don't go and say things for instance that the NYS land in Yatta is in Ukambani (referring to the Kalonzo Musyoka land grabbing claims) so it was not grabbed, that is the same as the people in Mombasa saying the port is theirs," said Kiminza.
He went to urge Ngilu to clear her name from the corruption allegations she was facing and not drag the entire Kamba community in it and said it was time she was fired.
"If she has some problems of her own, we have so many Kamba women who are competent to be appointed Cabinet Secretaries. The government should engage more with the Kamba people and not brokers who when they have issues run to other parties," added Kiminza.
The group complained that while other leaders were developing their regions, efforts by Ngilu were yet to be felt.
READ: My brother Kalonzo ain't a land grabber – Ngilu
They at the same time dismissed calls made by Leader of Minority in the National Assembly Francis Nyenze for the relocation of the NYS training camp in Yatta saying it was empowering youths and keeping them away from social vices.
"If she has been fighting for the Kamba community how many times has she taken the President to Ukambani… what development has she pushed for? What we are seeing is politics of blackmail and we are urging President Uhuru not act like he is desperate," said Kiminza.
The group allied to the Jubilee administration now intends to hold forums within Ukambani to educate residents on leadership and ensure they elect the right people into office.
Kiminza who was accompanied by Benjamin Mukima, Sussan Mwikali, Rose Kyengo and Douglas Mbuvi claimed the flip-flopping by Ngilu and Wiper leader Musyoka had ruined the image of the community and caused them to be sidelined.
They said they had received complaints from student leaders who had failed after being branded as 'unsure'.
"This lack of consistency and obvious political duplicity is hurting the perception of how the rest of the country views Kambas," said Mwikali.
Last week in an interesting twist of events, Ngilu strongly defended her political nemesis Kalonzo Musyoka over claims he grabbed National Youth Service (NYS) land in Yatta.
Ngilu instead accused the government of bias in the fight against corruption this after a section of Jubilee MPs accused Musyoka of land grabbing.
"They (Jubilee MPs) are saying that Kalonzo was given NYS land in Yatta. That land belongs to the Kamba people and we cannot grab our own land," she said.
Ngilu has however come out to refute claims that he has joined or is in talks with the Opposition maintaining that she is in Jubilee despite Nyenze having started that she had joined them.
But even as Ngilu attempts to clear her name, already, a section of Jubilee MPs are said to be plotting her removal with a petition calling on President Kenyatta to sack her, said to be in the offing.
-capitalfm.co.ke