Al Shabaab bride 'recruiter' pleads guilty to ID forgery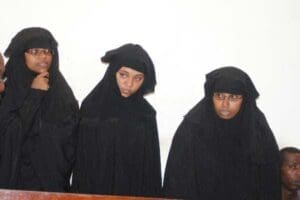 A woman the police believe is the wife of wanted al Shabaab fighter Abdalla bin Abdalla has pleaded guilty to forging identification documents and giving false information.
Shamsa Shariff Mohamed was accused of fraudulently obtaining identification documents, giving false information to police and being in the country illegally.
She was arrested in late July following investigations by detectives into the network of recruiters luring young Kenyan women to join al Shabaab to marry fighters in Somalia.
Shamsa pleaded guilty at a Garissa court on Friday August 7 and was fined Sh120,000.
Early this year, three young women were arrested in Mandera near the border to Somalia.
They were identified as Ummukhayr Sadri Abdullah, Maryam Said Aboud and Khadija Abubakar Abdulkadir.
Shamsa is believed to be the wife of Abdalla who is a member of the Jesh Ayman group that operates in Boni Forest.
Prior to joining al Shabaab in Somalia, Abdalla lived in Majengo Highrise estate in Nairobi and went to school in Shauri Moyo.
He is associated with the late Hassan Omondi Owiti alias Budalangi and al Shabaab leader Ahmed Imani.
Intelligence reports reveal that Hassan Owiti was a trained militia who participated in various attacks in Nairobi in 2012.
He was killed in May 2013 in a gun-fight with police at his Githurai estate house in Nairobi.
Hassan and Abdalla were reportedly radicalised by Darsas at Pumwani Riyadha mosque that has been associated with key al Shabaab leader from Pumwani Riyadh mosque Ahmed Imani who is in Somalia.
– the-star.co.ke