Is Raila Spoiling The Party In Cord?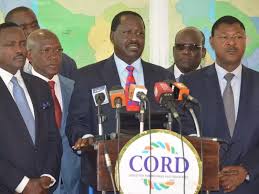 Reports have emerged that Raila Odinga's dominance in the Coalition for Reform and Democracy, Cord, could rock the party with co-principals Kalonzo Musyoka and Moses Wetangula "feeling" relegated to secondary positions.
The crux of the matter lies in nominations for the presidential ticket under Cord where the three principal – Raila, Kalonzo and Wetangula – have already declared interests in being the coalition's torchbearers during the 2017 general elections.
However, a piece carried by the Sunday Nation seems to suggest that Raila and his supporters within the coalition have been flexing their muscles in recent days to indicate that Kalonzo and Wetangula will only become "flower girls" at best in the 2017 lineup.
"Indeed, key confidantes of Kalonzo and Wetang'ula told the Sunday Nation that it would be hard for the alliance to hold should their ODM counterparts continue viewing them as junior partners," Justus Wanga reports.
Raila's party ODM has a controlling majority in the coalition, and there are suggestions that he could go it alone without the support of the two co-principals in what is being described as the "last bullet" in his political rifle.
This is an indication that the former prime minister is not ruling out the option of going it alone as those around him like his party secretary-general Ababu Namwamba insists he has "one bullet left" in his political rifle that he must put into use in 2017, Wanga writes.
But there is no clear evidence to prove the fears that Odinga plans to ditch the two and run on his own, except for the fact that he has already launched a presidential website and an SMS platform with a view to woo support from the youth.
-tuko.co.ke