KENYANS REACT TO UHURU'S MEETING WITH ICC BOSS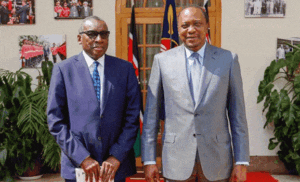 President Uhuru Kenyatta on Wednesday shared photos of his meeting with the President of the Assembly of States Parties to Rome Statute of the International Criminal Court, Sidiki Kaba triggering mixed reactions among Kenyans on Twitter.
President Kenyatta whose case at the ICC collapsed earlier in the year was meeting Kaba who is also the Minister for Justice in Senegal.
President Kenyatta stated that Kenya will continue to cooperate with the court appealing that it does not justify its existence at the expense of delivering international justice.
The President's statements had some Kenyans criticise the move with one user @PapaStivo tweeting, "@UKenyatta Interesting guest after what ICC put you through.Yaliyo pita si ndwele, tugange yajayo."
Others called for justice to be delivered in the Kenyan post-election violence cases.
POST-ELECTION VIOLENCE
@simonpleo tweeted, "@UKenyatta Mr president allow justice to be practiced in your area of jurisdiction to convince the ICC."
@njihiakelvin tweeted, "@ukenyatta will it provide justice to PEV IDPs?"
@MaritimEugene tweeted, "@UKenyatta I read this week that victims of the 2007/8 violence in Kenya have given up on the ICC form of justice. Why is that?"
The issue of the withdrawal of African states also featured in the comments as some users asked the President to state his thoughts on the matter.
@BrezhMalaba tweeted, "@ukenyatta Mr President, some prominent Africans, including the current AU Chair, want total withdrawal from ICC. What's your take?"
President Kaba who was visiting Kenya for the first time tweeted his appreciation to Foreign Affairs Cabinet Secretary Amina Mohammed stating, "On the occasion of my first visit to #Kenya as PASP, I thank @AMB_A_Mohammed for the kind invitation. @IntlCrimCourt."
He was elected as the fifth president of the ICC's governing body last year becoming the first African to lead the Assembly of State Parties.
-nairobinews.co.ke