Kidero predicts landslide win for Cord in 2017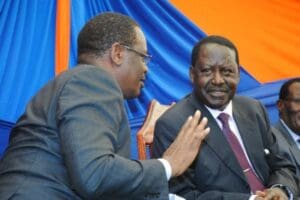 NAIROBI Governor Evans Kidero has predicted a landslide win for Cord in 2017 if the coalition partners plan properly.
He was speaking in Bunyala subcounty, Busia, yesterday during a funds drive in aid of Lunyofu Catholic Church. Kidero said Nairobi will be the main bedrock for Cord.
"Apart from the governor's seat, which is mine for the taking, Cord will win the senator and women's representative seats, which eluded us in the last election," he said.
Cord will take the seats of speaker, majority leader and chief whip, Kidero said.
"We shall also dominate with 10 cabinet secretaries and a similar number of PSs."
Kidero said Nairobi has 17 constituencies but Cord will capture at least 14.
"Out of 85 wards in Nairobi, Cord will win 60 seats." Kidero called on Budalang'i MP and ODM secretary general Ababu Namwamba to be his running mate in Nairobi.
Nairobi chaplain Rev Cornelius Simiyu told Ababu to move to Nairobi and become Kidero's running mate in 2017.
Kidero backed the proposal, saying Ababu is a respectful leader who can unite all communities.
He said those who want to divide the party along tribal lines have no room.
Ababu did not respond to the calls. He praised their cordial relationship, which he said will blossom.
– the-star.co.ke