Photos: Song and dance in Kisumu as residents welcome President Uhuru
Photos: Song and dance in Kisumu as residents welcome President Uhuru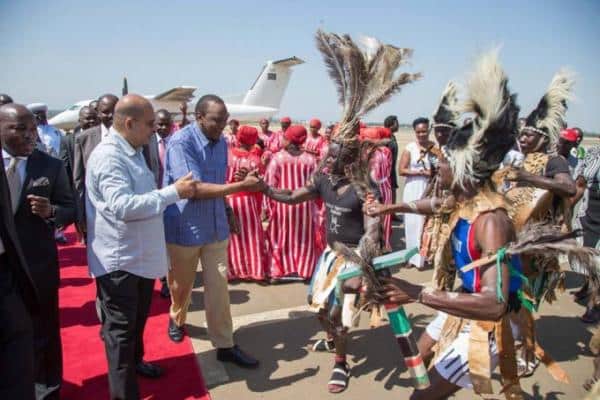 Uhuru Kenyatta hosts Kenya National Music Festival finalists in Kisumu State Lodge.
President Uhuru Kenyatta this afternoon took Kisumu city by storm when he landed in the lakeside region to officially close the 89th edition of the National Music Festival.
The President arrived at around 10.30 am to an ecstatic reception, with thousands of local residents chanting ululations of 'Uhuru  Tena' (Uhuru again)  as the Presidential motorcade drove through Kisumu's busiest Oginga Odinga street.
The jubilant residents who had blocked the street to be addressed by the President were however disappointed when he went straight to the Kisumu State Lodge, promising to address them after the fete.
The locals carrying posters and banners bearing pro-Uhuru and the National Youth Service slogans had to march from the street, through Jomo Kenyatta highway to the State Lodge, just to catch a glimpse of the country's most powerful man.
"Ouru biro, yawne yo( Give way, Uhuru is coming)," they sung.
At some points, they engaged in bitter exchange with security officers who restrained them from gaining access to the State Lodge.
"Hatutaki vita, tunataka Ouru . Hatutaki vita tunataka Baba (We don't want war, we want Uhuru," they chanted.
"We wanted to thank the President for the NYS project which has employed many youths in this region. We also wanted to request him to extend the period of the initiative for one year," said Omondi Ojwang', who is a beneficiary of the project.
"We are very happy with the youth empowerment exercise and we will support Uhuru even in 2017 for this project to continue," Mercy Awino, another resident added.
The residents began milling the street as early as 9 am, abandoning their businesses in anticipation of Uhuru's entourage from the Kisumu International Airport.
The warm reception surprised many residents as Kisumu is largely an Opposition zone, where former Prime Minister Raila Odinga is considered the political king.
This is the third time Uhuru is visiting Kisumu since he took office.
Photos: Song and dance in Kisumu as residents welcome President Uhuru