Photos:First Lady trains for marathon in Ethiopia
The First Lady Margaret Kenyatta caused a stir in the Ethiopian capital of Addis Ababa on Saturday when she braved a morning drizzle to run a five-kilometre stretch.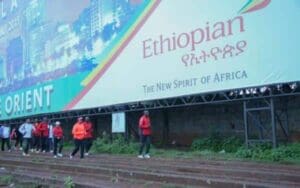 The First Lady and her team hit the the circuitous and hilly stretch for their pre-marathon training before embarking on the business of the day.
Along the way, Mrs Kenyatta was joined by famous Ethiopian marathon champions, who use the same route for their training.
Mrs Kenyatta's team also entered the famous Meskel Square in Addis Ababa.
Meskel Square is used by Ethiopian runners to cool down after training in the hilly capital.
The rain and the mud in the square did not deter the resilient First Lady and her team from completing their 51-minute morning training session, which started and ended with stretching exercises at the Sheraton Hotel.
The First Lady is in Addis Ababa to attend the official inauguration of the new president of the Organization of African First Ladies Against HIV/AIDS (OAFLA).
The First Lady of Ghana, Nana Lordina Mahama will formally assume the OFLA presidency from outgoing leader, the First Lady of Chad, Hilda Itno Derby on Saturday.
The ceremony is hosted by the First Lady of Ethiopia, Roman Tesfaye.
-nation.co.ke