Raila Odinga to camp in Western Kenya over sugar deal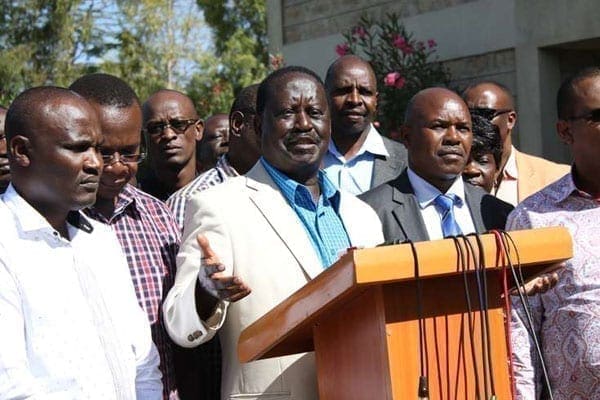 SPEARHEADED by party leader Raila Odinga, ODM will this weekend camp in Western Kenya to tell farmers why President Uhuru Kenyatt's sugar deal with Uganda is bad for them.
ODM will be joined by Cord principals Kalonzo Musyoka and Moses Wetang'ula as they seek support for their push to have the government disclose the full details of the deal.
"We have resolved to have consultative meetings with farmers to make them better understand what the agreement is all about," Suna East MP Junet Mohammed said.
The sugar deal has become a political hot potato for the Jubilee administration and a potential public relations disaster.
Last weekend, Deputy President William Ruto pitched tent in Western for three days in what was seen as a fire-fighting mission to cool political temperatures.
Before the storm over the Uganda deal, President Uhuru Kenyatta had dangled several carrots for Western's leaders – including a Cabinet appointment and several plum parastatal jobs.
The decision by ODM is also seen as a strategy to turn the tables on Jubilee and ring-fence the vote bloc it considers its political epicentre.
Details of the campaign emerged yesterday, as the party, meeting in Maanzoni, also resolved to reject a Constitutional Amendment Bill that seeks to change the General Election date from August to December.
The ODM brigade will land in Awendo on Thursday morning for the first of the consultative meetings with cane farmers.
The leaders will then move to Bungoma county the same day and end up with another meeting in Busia later that as the storm triggered by the Kampala/Nairobi sugar deal rages on.
On Friday the group will be in Kakamega county and end their first phase of "consultations" in Muhoroni later in the afternoon.
During the Maanzoni retreat, ODM dropped the idea to remove Francis Nyenze as Minority leader in the National Assembly for fear of opening up new cracks in Cord. ??However, Ugunja MP Opiyo Wandayi, a fierce defender of Raila's, was named to help in coordinating and revitalizing ODM's Parliamentary Group.??
"The issue [of overhauling Cord's parliamentary leadership] was too sensitive. Wandayi was named to give more impetus to our team," a source that attended the meeting told the Star.
Surprisingly, however, ODM rejected the Constitutional Amendment Bill sponsored by one of its own, Ugenya MP David Ochieng'.
According to the party, Kenyans wanted a specific date not controlled by politicians.
"Kenyans wanted to also clearly mark the culmination of an electoral cycle. They wanted it to partly be used to define a definite term and tenure of office," the statement said.
The party also rejected the controversial Kenya Defence Forces (Amendment) Bill that seeks to enhance the role of the military in internal security.
Raila Odinga to camp in Western Kenya over sugar deal