Red carpet awaits as world-conquering athletics team returns from Beijing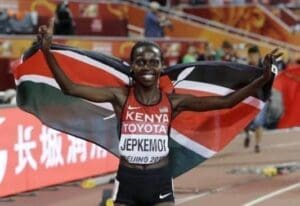 Kenya's team to the 15th IAAF World Athletics Championships arrives this morning at Jomo Kenyatta International Airport after the historic outing.
The 51-member team, which topped the medal standings, beating world's sporting giants Jamaica, USA and Russia, will land JKIA at 6:25am.
They will be back home with their heads held high after venturing into virgin grounds in javelin and 400m hurdles, where they won maiden gold medals at the iconic Birds Nest Stadium in Beijing, China.
Kenya's achievement is made even sweeter by the fact they wrestled the more than 200 countries that took part, flooring world's biggest economies –USA, China and Great Britain –who fielded more athletes in the different track, field and marathon races.
As is now the norm, the familiar JKIA welcoming parties, complete with Government and AK functionaries, ululating friends and relatives, upcountry buses decked with twigs, and the trademark sip of mursik for the conquering heroes, will be replayed this morning.
TRIUMPHANT RETURN
Nairobi is likely to come to a standstill as Government and AK officials lead other athletes and residents to celebrate the triumphant return of the world beaters. Kenya emerged top with 16 medals – seven gold, six silver and three bronze against the 1,936 athletes (1,043 men and 893 women) in contention.
The team looked stronger than the one for the 2013 World Championships in Moscow, Russia, which finished fourth in the medal standings with 12 medals (five gold, four silver and three bronze), where 206 countries participated.
Congratulatory messages have kept pouring in from far and wide.
Peter Angwenyi, the AK Nyanza branch, said the good show was a clear pointer ahead of the 2016 Rio Olympic Games, where the nation will be seeking to prove critics wrong after a dismal show in London.
-standardmedia.co.ke