Video: Uhuru makes maiden trip to Gatundu to attend church
Video: Uhuru makes maiden trip to Gatundu to attend church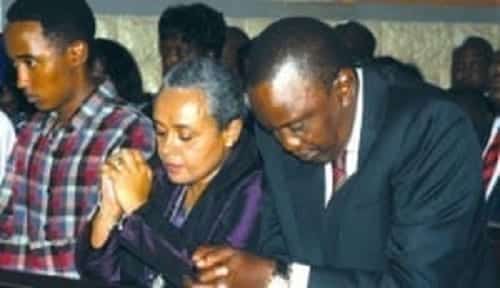 Kiambu, Kenya: President-elect Uhuru Kenyatta made a triumphal entry into his Gatundu backyard to seek blessings of his lineage a day after he was declared Kenya's Fourth President.
Enjoying the new prestigious status that comes with the high office, including high-level security from the elite General Service Unit's Recce Squad, Uhuru retreated to his ancestral roots, stoking memories of the locals dating 33 years back when his father Mzee Jomo Kenyatta was the country's Head of State.
But it was not just Uhuru riding on the tumultuous wave of power but his former running mate, Mr William Ruto, who is now waiting to be sworn in as Deputy President. Overwhelmed by the sweet victory, Ruto broke down in tears of joy at a church in Nairobi as he stood at the front to give tribute to God for the electoral victory, which he said the Lord made possible and exceeded the expectation of Kenyans.
History was repeating itself as Thika Superhighway — the road that his father was driven on almost every morning and evening during his tenure as the President — was in the morning partially closed to motorists to allow the President-elect smooth ride to Gatundu.
Driving in a convoy of 14 State vehicles, which included limousines and heavy four-wheel drives, Uhuru was in one of the two Range Rovers, sandwiched by four other vehicles that carried members of his security.
He urged Kenyans to pray for him and his Deputy President-elect saying they hoped to deliver on every promise they made to Kenyans.
"Charity begins at home and that is why I decided to first come here and give thanks to God together with you," he said.
"It has been a long journey looking at where we have come from and there is still a longer one ahead. Thankfully this far God has guided us," said Uhuru.
Improve livelihoods
He reiterated that he would serve all Kenyans without care about their political or sectarian affiliations.
The president-elect challenged those who had been elected to now focus on developing their areas to improve the livelihood of Kenyans.
"That way we will be serving both God and mankind," he said.
Unlike before when he would address the residents in his local dialect, Uhuru addressed the congregation in Kiswahili.
"I have not cried like this for many years. The only time I remember crying like this was when I was a little boy and my mother is here to attest to that,'' Ruto told the congregation in Karen
He added: "My wife knew me as a strong man because she had never seen me emotional like this."
"The same God who gave us victory against all odds will do more exceedingly and abundantly for us. It will be more than the people of Kenya want. God is going to do great things for this country," added Ruto.
The security detail assigned to Uhuru and Ruto was bolstered overnight. Known for engaging in jokes and hearty laughter, hugs, shoulder pats and chatty sessions with supporters, fellow politicians and journalists, Uhuru now is no longer as accessible as he used to.
Hawk-eyed officers
Be it in church as was the case yesterday or at home, armed police officers and many more hawk-eyed officers in plain clothes, have taken charge of his security.
Uhuru attended morning service at the Martyrs of Uganda Catholic Church in Gatundu town, the same place he went for Mass before travelling for his case at the International Criminal Court last year.
At the church, plainclothes officers took positions among worshippers while others patrolled the church grounds.
Uhuru arrived in a GK-plated Range Rover, riding alongside an identical vehicle convoy that carried among others, his mother and former First Lady Mama Ngina Kenyatta, as well as his wife and upcoming First Lady Margaret and children Jomo, Ngina and Jaba.
About 10 officers jumped out of the Mercedes Benz cars and trotted alongside Uhuru's car in Gatundu as he made his way into the church.
A similar scenario was in the meantime unfolding at the Faith Evangelical Ministries in Karen where Ruto arrived with three chase cars trailing his official Mercedes Benz.
Also part of the entourage was a police car clearing the way for the Deputy President-elect and two Land Cruisers ferrying armed GSU officers.
Outside the church was a convoy of vehicles and security officers befitting Ruto's new status.
At the church, Ruto was overwhelmed with emotion and broke down in tears as he told the church that anything was possible through God's powers.
When he left the church, bodyguards guided him to his waiting vehicle outside with an escort police Mercedes Benz in the front.
No other vehicles were allowed in the motorcade as the three chase cars followed along with each of the Land Cruisers laden with GSU officers both in the front and rear of the convoy.
Throughout the church service armed police officers guarded Ruto's motorcade as the drivers dusted off the leek cars.
Sources said the cars they are using will be changed when they officially assume office should the petition expected to be filed today by Prime Minister Raila Odinga's Coalition for Reforms and Democracy be dismissed by the Supreme Court.
Unlike Ruto's two mini-trucks carrying GSU officers, Uhuru's had three Land Rovers full of the elite squad members.
Police officers were stationed along the road he used in regular intervals and in pairs, from Nairobi to Gatundu, saluting whenever the convoy passed through.
The president-elect opened rolled down the window to acknowledge greetings from crowds that stood by the roadside to watch the motorcade cruise through Thika Superhighway. They lined up at Githurai and Ruiru where Uhuru waved at them as he passed by.
'President's flag'
At the Kenyatta Road junction to Gatundu off the superhighway, a larger group waited with many donning his The National Alliance (TNA) T-shirts and waving his posters.
They almost blocked the road, prompting the president-elect to make a stopover and address them atop of his vehicle. Members of the Presidential Press Service (PPS) provided the public address system.
At Kimunyu Trading Centre, he disembarked from the vehicle and exchanged greetings with his supporters who were struggling to beat the tight security that cordoned him to shake his hand.
From there the convoy made its way through, with Uhuru waving at the groups that milled around Mutomo Shopping Centre as he moved to the Kenyatta home in Ichaweri home. From there he headed for Gatundu Stadium where enthusiastic and jubilant supporters awaited him to arrive with the "President's flag''.
The joy of the area residents was evident in the manner of the celebration. Their only disappointment was the absence of Ruto.
Many shouted to enquire from Uhuru the whereabouts of his deputy, expressing their disappointment at his absence. An enthused elderly woman shouted by the roadside: "uthamaki ni wa cioka" (power is back).
The entire Central Province security team, led by the Provincial Commissioner Mr Kiplimo Rugut and the church hierarchy led by Nairobi Archdiocese auxiliary Bishop Rev. David Kamau were at hand to receive him.
The larger Kenyatta family, led by Mama Ngina actively participated in the liturgy, leading the family in the offertory procession.
Uhuru and his mother offered church wines while his wife gave the unleavened bread.
Inside the Church, the President-elect sat at the front pew together with the first family.