President Uhuru Kenyatta: Why I am returning to China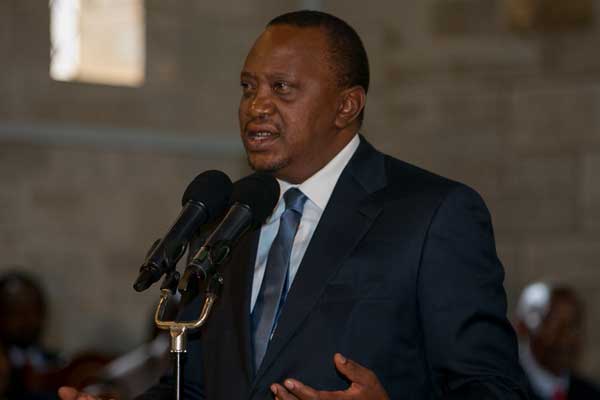 President Uhuru Kenyatta Friday said he is returning to Beijing to ask for China's support on African integration. Top on his agenda in the China trip is to discuss ways the country can accept to buy more Kenyan goods.
In a preparatory press briefing before he travelled, the President spoke of his ambition to "deepen our partnership" with the Chinese, but said there are two key areas his trip will focus on.
"It will be priority to see to it that it (the Standard Gauge Railway) ends not just in Naivasha but to Kisumu and into the hinterlands in Uganda, Rwanda and the DRC, to open up Africa's potentiality," he said at State House, Nairobi.
"We will try to push for more African goods into the Chinese market so that we can have an opportunity for both of us to benefit," he said.
The President spoke about the Standard-Gauge Railway which he said he wants the Chinese to help complete beyond Kenyan borders so as to boost a transport network within the continent.
"I do not see it as a Kenyan railway but as an African railway. It is a railway line that links Asia to Africa and ultimately to the Americas as we look forward."
As his pet project since he took office in 2013, President Kenyatta first travelled to Beijing in August 2013 where he secured a $5billion investment pledge that included a loan deal for the 472km-railway line.
The financing was later inked in 2014 in Nairobi when Chinese Premier Li Keqiang visited.
The President will travel to Beijing straight from the London conference on Somalia where the threat of terrorism to regional security was discussed.
He is returning to China for a conference on trade connectedness known as the 'One Belt One Road Forum'.
The forum is part of Beijing's 2013 initiative to develop land and sea trade routes in Asia, Europe and parts of Africa to mimic the historical Silk Road covering about 60 countries.
Though expensive, the Chinese government hopes to use the initiative to increase exports in the next 10 years.
Beijing is pumping $1 trillion (Sh103 trillion) into the project and encouraging State corporations to take part, mainly in investing in airports, roads, railways and seaports in countries that fall in the belt.
Source link-nation.co.ke
President Uhuru Kenyatta: Why I am returning to China