Sick Kenyan woman Martha Nyaguthi in Saudi Arabia abandoned by employer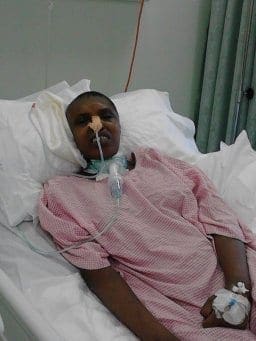 Kenyans in Saudi Arabia are looking for the relatives of Martha Nyaguthi,a sick woman in a comma who was abandoned by her employer.
According to a face book message posted in Kenyans in Saudi Arabia group page,the employer of Martha took her to  Sanad Hospital and dropped her there with her passport.
Here below is the message.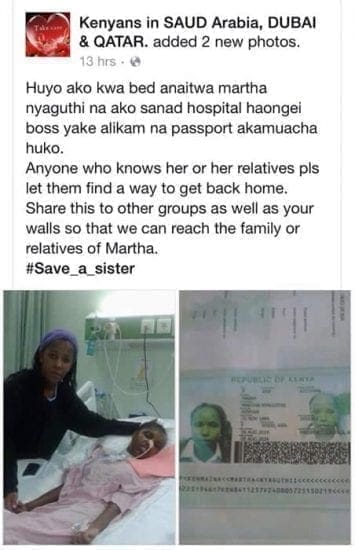 Nyaguthii has been in a coma for the past seven years after she suffered a fractured skull under mysterious conditions.
She left Kenya when her was only six, now he is about to write his Kenya Certificate of Primary Examinations (KCPE).
According to her caregiver, Peninnah Favour, Nyaguthii has been admitted at the Aster Sanad Hospital in Riyadh, Saudi Arabia since 2015.
"To date, no one knows what happened to her. Doctors replaced her broken skull with a plastic one," Ms Favour told the Sunday Standard.
Favour told the daily that she did not know Nyaguthii prior to the accident but now changes her diapers five times a day and bathes her.
The mother of four said she talks to Nyaguthii even though she cannot respond.
Sick Kenyan woman Martha Nyaguthi in Saudi Arabia abandoned by employer