Uhuru, Raila teams in new clash over Barack Obama remark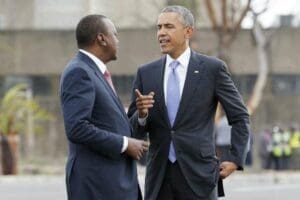 President Uhuru Kenyatta has accused Opposition leaders of failing to put the interest of the country before theirs and instead choosing to speak ill of their motherland during a meeting with US President Barack Obama last month.
The stinging criticism, apparently directed at Raila Odinga, Kalonzo Musyoka, Moses Wetang'ula and Martha Karua who met Obama briefly, drew sharp reactions from Opposition MPs who accused the President of seeking to divert attention from governance challenges facing the country.
President Kenyatta on Wednesday said opposition politics was not about standing in the way of development and progress.
The Head of State regretted that the leaders, who he said were lucky to have been accorded the opportunity to meet President Obama, wasted the opportunity to contribute to Kenya's progress by extolling the country's investment opportunities.
"Even when we have visitors, you want to wash your dirty linen in public. You do not invite visitors to your house and start quarrelling with your spouse," said the President.
He said the role of the Opposition is to air their views democratically on issues they have a difference of opinion on and to support what is right.
See Also: Battle lines drawn as House prepares to debate rejected EACC bill
The President was speaking at Makongeni in Thika after attending a security meeting at the Kenya Defence Forces (KDF) Engineers Brigade barracks.
"Instead of asking for more investments in Kenya and putting the country first, they chose to put their selfish interests first," said the President.
He also censured the Opposition for creating controversy over Government plans to support unemployed youth through projects managed by the National Youth Service.
Noble initiatives
The President said the leaders opposing the noble initiatives to allocate more money for improving the welfare of the youth, who are the majority of the Kenyan population, were betraying their preference for poverty as a tool for political benefit.
However, Opposition legislators said Obama was conversant with the challenges facing Kenya and did not need any briefing from their leaders.
Wiper Secretary General and Mombasa Senator Hassan Omar said it is very unfortunate for the Head of State to pretend that he was more patriotic than other Kenyans.
He said that there are those who fought for the democratic ideals which he was now reversing and trampling on, adding that there was nothing new President Obama was to be briefed on.
"It is very unfortunate and cheap to think that President Uhuru loves this country more than some of us. This is a democratic country. We cannot talk only about trade," said Omar
-standardmedia.co.ke