Video:KLM running Kenya Airways into losses – Kirubi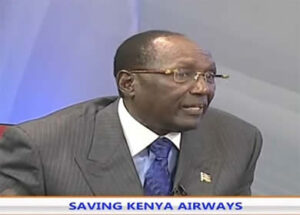 Businessman and Kenya Airways shareholder Chris Kirubi has castigated the national carrier for having poor marketing strategies and partnerships that don't add any value. Speaking on Citizen TV's Business Center on Wednesday, Kirubi said KQ's partnership with KLM airlines does little to profit the airline as KLM is a major competitor.
"It is like letting a leopard take care of your sheep," quipped the mogul. Kirubi called on the renegotiation of the agreement between KQ and KLM saying the airline has not delivered.
"KLM is going to all the routes KQ is flying to in East Africa and competing with Kenya Airways," said Kirubi. On his part, Arjun Ruzaik, an aviation entrepreneur said that the arrangement between KLM and KQ was a legal agreement, adding that it needs to be renegotiated.
Kirubi wondered why the company's financial advisors and directors allowed the company to enter into major debts at the same time. The businessman lamented that the company was taking debts in dollars while it transacted business in Kenya shillings, making the debts more expensive. He questioned why KQ allowed its competitor to manage its commercial and operational decision making while still taking care of the interests of its own parent company and expect them to make money for you.
– CitizenTV