Why African leaders need aide-de camps,while Obama don't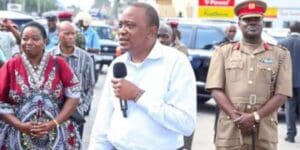 You saw it when US President Barack Obama was in Kenya that there was no one standing right behind him as it is the case with African leaders.
They are called aide-de camps; their major role is to ensure that anyone accessing the president is cleared by relevant offices including the Statehouse among other ceremonial duties like inspecting the guard honour alongside the head of state.
An aide-de-camp also accompanies the president to every function within and out of the country. In addition he also carries the president's personal items and is the hand that receives anything presented to his boss.
In Tanzania they are referred to as pambo ya Rais (the president's decoration) which very much suits the roles they undertake.
The question is, why should they stand behind the president when giving a speech? Can we do without them? Can the president be safe without them?
African President's are either old or unfit. During his visit President Obama shared a light moment with President Uhuru Kenyatta asking him to run with his wife so he can keep fit. Maybe this is why they need the aide-de-camps, pick when they fall like what happenned to Zimbabwe's President Robert Mugabe.
All in all, this role maybe working for African leaders but it should be revisited to see if our leaders really need them.
-kenyans.co.ke