ICC puts top Kenyan lawyer on watch list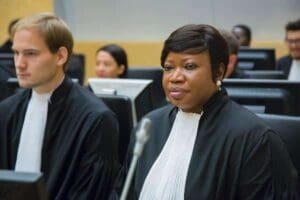 A top Kenyan lawyer is on the ICC's radar and risks being charged for corruptly influencing prosecution witnesses in the case against Deputy President William Ruto.
Investigations by the Star indicate that the lawyer, whose name was withheld by the Hague judges, was appointed as a parastatal chief last year.
He would become the second Kenyan to be indicted for bribing and corruptly influencing witnesses to pull out of the case after journalist Walter Barasa.
According to ICC documents, the man has been falsely presenting himself as a defence lawyer for Ruto, despite a cease-and-desist warning from the DP's legal team.
The details emerged following the admission of recanted evidence and testimonies of five witnesses, a development that has sent shockwaves through Ruto's political inner circle.
Prosecutor Fatou Bensouda said she has established the existence of "an organised and effective scheme" to persuade prosecution witnesses to withdraw, claiming those responsible are acting to benefit the accused.
Ruto's lead counsel Karim Khan has however disowned the said lawyer saying, "you have absolutely no involvement in my team nor have you been tasked directly or indirectly by DP William Ruto".
The man is a member of the Law Society of Kenya and Khan had threatened to report him to the society. "Even more worrying is the information I have received from various sources that you are allegedly seeking to contact people believed to be ICC prosecution witnesses, with the intention of asking them to 'come home' or not testify before the ICC," Khan said.
– the-star.co.ke