Larry Madowo at 'War' With Statehouse Official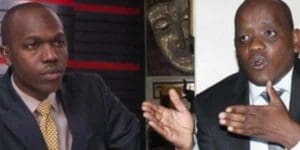 Popular TV presenter Larry Madowo and Director of Digital Communication at the Office of the President Dennis Itumbi, on Friday engaged each other in an unending social media battle over the corruption allegations against Devolution and Planning Cabinet Secretary Anne Waiguru.
In a tweet, Itumbi stated that he was standing with Ms Waiguru saying the allegations leveled against her were false and that he knew the CS to be a great mother, sister and friend.
Madowo launched an attack against Itumbi questioning his support for someone involved in corruption on the mere basis of being a great mother, sister and friend.
Itumbi went ahead to challenge the NTV anchor to provide evidence that the Devolution CS had a corruption case and to clearly state the case number.
The heated war between the two 'frenemies' continued as Madowo remained sacarstic on Itumbi's stand under the hashtag #IStandWithWaiguru.
Fraudulent transactions that saw the loss of Sh800 Million at the Ministry of Devolution and Planning were previously reported with 22 officers accused of the scam.
The NYS scandal has since degenerated into a political storm with CS Waiguru being at the centre of the controversy.
CORD leaders have repeatedly mentioned Waiguru in connection to the graft case and have demanded for her suspension.
Here is the battle.
Yes #IStandWithWaiguru I knew her long before she became CS @AnneWaiguru and I know for a fact she is a great mother,sister and friend.

— Dennis Itumbi (@OleItumbi) September 25, 2015

To recap, you stand with her in a corruption case because she's a great mother, sister and friend?https://t.co/zKhjJhR6Ks

— Larry Madowo (@LarryMadowo) September 25, 2015

.@LarryMadowo I did not know @AnneWaiguru has a corruption case.She does?Journalism is about facts, which case? #I StandWithWaiguru

— Dennis Itumbi (@OleItumbi) September 25, 2015

Of course not. There have been no concerns raised about accountability & stolen funds from her ministry. Carry on https://t.co/tfJSiYHcr7

— Larry Madowo (@LarryMadowo) September 25, 2015

You cannot evade the issue @LarryMadowo you said CS @AnneWaiguru has a corruption case, as a@ntvkenya journalist give us the case number

— Dennis Itumbi (@OleItumbi) September 25, 2015

-kenyans.co.ke