US documents dismiss Raila's 2007 stolen election claim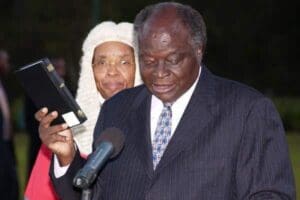 Declassified US documents on Kenya could spark debate on the controversial 2007 general election that plunged the country into post-poll violence.
A document by former US ambassador to Kenya Michael Ranneberger is among 7,000 others released by former Secretary of State Hillary Clinton.
The report, titled 'Did Kibaki Really Steal The Election?', challenges an assertion by Raila Odinga that he lost the election in an intricate rigging scheme.
Raila claimed the scheme involved Electoral Commission of Kenya officials and PNU operatives at grassroots levels.
"This flies in the face of the position adopted by the ODM and others as mantra: That the election was brazenly stolen by Mwai) Kibaki's ECK insiders at the last moment and that Raila should have won by a wide margin," the report says.
"It also contradicts any perception or conviction within the Kibaki camp that the latter clearly won the race. The fact of the matter is, as ECK Chairman Kivuitu said publicly on January 1, 'I do not know if Kibaki won the election'."
The report states that an audit of the voting material could not provide a clearer indicator of who won the presidential race, despite ECK's announcement that Kibaki did.
"What the analysis does tell us is that it's not at all clear who actually would have won the presidency had the election been truly transparent, free, and fair," said Ranneberger.
The six-page document also details monitor groups' concerns over the level of poll tallying irregularities that made it difficult to determine an outright winner.
"Despite praise from all quarters that election day voting was generally free and fair, in fact there is strong circumstantial evidence indicating that more traditional forms of cheating, such as ballot stuffing at polling stations and/or constituency-level tallying centers, probably played an important role in determining the final results of the 2007 presidential election," Ranneberger said.
He added that evidence collected by observers showed massive electoral malpractice from both ODM and PNU
This development is a stark contrast to an endorsement of the Kibaki victory by the Obama administration, which later called for a review of the process to prevent violence.
Ranneberger's report ends with a recommendation for electoral body reforms to prevent a repeat of the 2007-2008 chaos that claimed 1,500 lives and displaced 600,000.
"After what happened during this election, Kenya's electoral institutions cannot credibly conduct free, fair, and transparent election until fundamental reform has been carried out," he said.
– the-star.co.ke