Court remands Moses Kuria over incitement charge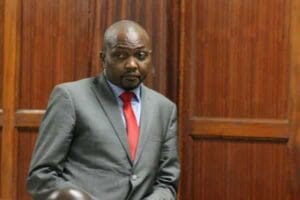 A Nairobi court has detained Gatundu South MP Moses Kuria pending a ruling on bail in a new case in which he is charged with incitement to violence.
Mr Kuria will remain locked up at the Kilimani Police Station until Friday when Chief Magistrate Daniel Ogembo will determine whether to grant him bail.
The politician was charged over the infamous "panga" remarks he allegedly made while addressing a crowd in his constituency.
Mr Kuria was accused of uttering words to the effect that "it was desirable to bring death and physical injury to certain persons in Kenya" while addressing a crowd on June 26, 2015 at Gatundu Stadium.
He is alleged to have been urging youth to attack politicians opposed to NYS projects.
Bail terms were vehemently opposed with the prosecution seeking to have the politician detained until the case is heard and determined.
An assistant director of public prosecution Dr Leonard Maingi told the court "not to admit" Mr Kuria to bail for the sake of "public interest."
He also said that the remarks the politician made bordered on a possible blood bath and that for the sake of "state security" the suspect should remain in custody.
The prosecutor also said that Mr Kuria had not been remorseful even after being granted bail in a separate case of incitement to violence.
"The court has a duty to safeguard the integrity of the criminal justice system. The accused on November 26, 2014 was restrained from making statements that amount to violence and ethnic contempt and had condition set against the bail terms he was granted," Dr Maingi said.
He said that despite the reprieve in which he was released on a Sh2 million cash bail "the accused has continued with the same conduct that now forms the subject matter before the court."
However, Mr Kuria's lawyer, Danson Mungatana said the case was "politically driven."
He said there was no compelling reason to deny Mr Kuria bail and accused the prosecution of having ulterior motives.
"The charge is malicious and only aimed at settling political scores," the lawyer said.
He said Mr Kuria was not only a political figure but a "father and a husband whose family eagerly awaits his return."
"Governments may change, the same people persecuting him now may want the Constitution to protect them," Mr Mungatana submitted.
Mr Ogembo said that the highly contested application for bail and the material placed in support and in objection needed time for analysis.
He will deliver a ruling on Friday November 27, 2015.
-nation.co.ke